Mannings is the brand that Hong Kong women have the best impression of, according to a new analysis.
As international women's day is around the corner, YouGov BrandIndex announces the top 10 best-perceived brands among women in Hong Kong.
Mannings topped the list with 40.2, ahead of Japanese apparel retail Uniqlo, which has a score of 39.4.
Brands like Nike, Visa and Rolex ranked third, fourth and fifth respectively.
The top brand list is dominated by beauty related industries. Half of the top 10 brand list come from fashion industry, including brands ranging from mainstream and athletic fashion (Uniqlo, Nike, Adidas) to luxury fashion (Rolex, Chanel). Personal care brands (Mannings and Mentholatum) also enjoy high impression scores.
Take a look at the list of brands featured in the study below.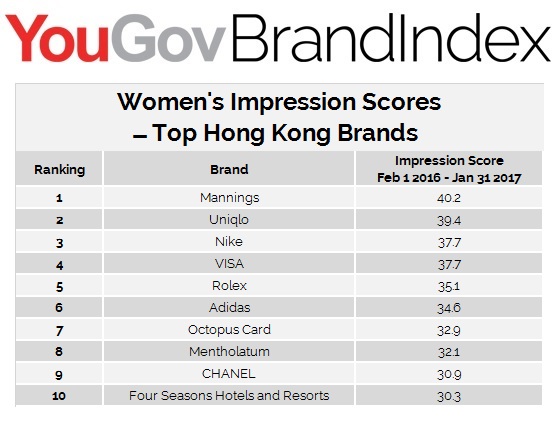 The rankings are calculated by measuring 'impression' scores on each brand among the female respondents for the 12-month period through January 2017.
Impression scores for the brands are measured by asking, "Do you have a general positive or negative feeling about the brand?" and were filtered for female adults who are 18 or above.
The score can range from 100 to -100 and is compiled by subtracting negative feedback from positive. A zero score means equal positive and negative feedback.