More than ever, consumers are flocking to streaming services, listening to music through connected devices, putting audio front and center in their daily lives. This new habit is creating massive shifts in the consumer journey, spurring a renewed focus on the role of audio in people's lives.
It is important for brands to realise that our lives are shaped by what we hear, and each one of us has a unique soundtrack. Ever since streaming gave us instant, on-demand access to all the world's music, it's become easier than ever to personalise that soundtrack.
With that in mind, there's never been a better time to plug audio into your media buy, as it takes your brand places that other media can't go. According to Nielsen, 79% of audio is consumed while people are engaged in activities where visual media can't reach them, whether it's taking a road trip in the car, hitting the treadmill after work, or even channeling your inner rock star in the shower.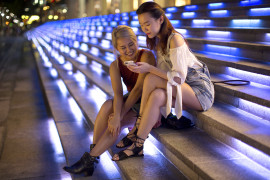 In addition to that, audio ads are more than 2x as likely to lift purchase intent and information intent than display ads.
When most people think about audio ads, they usually think about old radio ads with annoying voices or cheesy jingles. At Spotify, we want to make sure our audio ad experience is consistent with the music listening experience our users love.
We understand the power of audio. In fact, we've seen that audio ad recall over traditional display ads by up to 25%. In order to help you take advantage of this powerful format, we've analysed some of the best and worst performing audio ads on Spotify to develop a set of creative guidelines designed to help you fine-tune your audio campaigns.
Here are some of our top tips:
Know your audience
Talk to your listeners: Ads that are personalised to the listener see higher engagement. Hence, why reaching the right audience at the right moment is important.
Keep it clear and memorable
Include a call-to-action: And more than one, if you can: ads that had two calls-to-action performed at least 3x better than those with none.
Quality matters
Keep a consistent tone and tempo: As a rule of thumb, aim for between 55-59 words for a 30-second ad.
For more information, do check out https://brandsnews.spotify.com/
This article is sponsored by Spotify.