The digital wallet space is heating up in the city. After the launch of Apple Pay in July, touch-less payment system Android Pay lands in Hong Kong today at more than 5,000 locations.
Whether you're heading out to buy groceries, grabbing a cup of coffee, or picking up some egg tarts for your family and friends, your Android phone will become your new wallet. Starting today, Android Pay is available at shops across Hong Kong, including 7-Eleven, Circle K, Fortress, Mannings, Maxim's Cakes, MX, McDonald's, Pacific Coffee, PARKnSHOP, SmarTone, Watsons, Wellcome and more.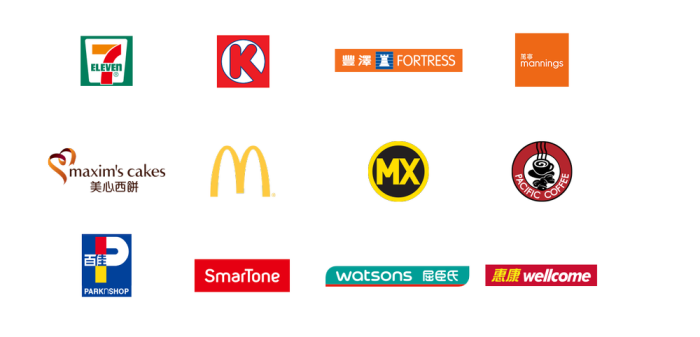 Hongkongers can use the system with Visa or MasterCard cards issued by DBS (Hong Kong), Dah Sing Bank, Hang Seng Bank, HSBC, Standard Chartered Bank (Hong Kong) Limited, and The Bank of East Asia Limited. There is no limit to the number of cards users can add. Users can select which card to charge when using the app to enjoy the best deals available.
Those six participating banks are now offering some incentives for their customers to use the new payment platform.
Dah Sing Bank: Receive HK$20 sign-up rebate upon successful registration of Dah Sing Mastercard Card in Android Pay and completion of the first Android Pay single transaction of HK$20 or above. Enjoy up to 2% cash rebate without upper limit upon achieving monthly cumulative spending of HK$1,500 or above via Android Pay from now until 31 March, 2017.
DBS: From now until 30 November, DBS Hong Kong credit card customers using Android Pay can enjoy a 50% rebate (up to HK$50 upon spending HK$100) on their purchases at PARKnSHOP, Watsons, Watson's Wine and Fortress. At other merchants that accept contactless payments, customers can enjoy a 20% rebate (up to HK$50 upon spending HK$250).
Heng Seng Bank: Between now and 26 October, cardholders who add their Hang Seng Visa or MasterCard card to their Android Pay app will receive $20 in Cash Dollars rewards. Its cardholders using Android Pay will earn an extra $50 in cash dollars rewards on every accumulative net spending of HK$500 at designated merchants from now until 25 November.
HSBC: Cardholders can receive up to an extra HKD 250 RewardCash by using Android Pay.
The Bank of East Asia: BEA credit cardholders who add their BEA MasterCard or Visa credit card to Android Pay between now and 26 October will receive 5,000 bonus points, while customers who use mobile banking will also receive an extra HK$20 Circle K i-Coupon.
Standard Chartered: Enjoy HK$30 cash rebate upon completing three retail or in-app transactions by using an eligible Standard Chartered credit card through Android Pay.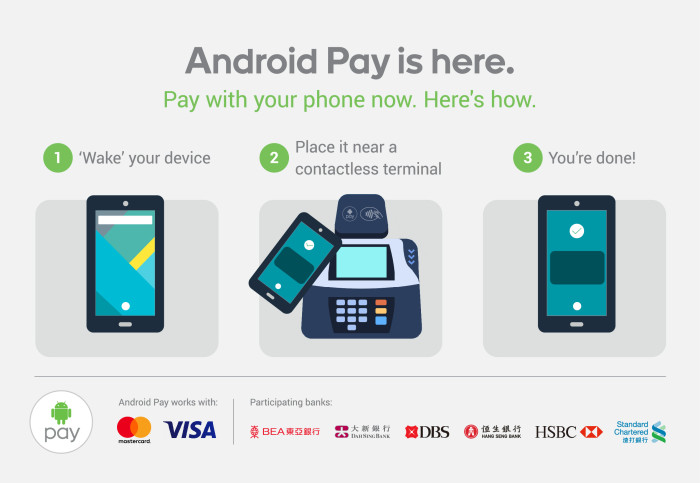 Moreover, Android Pay can make purchases within apps as well, including Boutir Collect, Deliveroo, Kaligo, Klook, and Snaptee, and apps such as Uber are soon to follow.
Following the introduction of Android Pay in Singapore and Australia earlier this year, Hong Kong is the third location in the Asia Pacific region to roll out the service.
Leonie Valentine, managing director of sales and operations at Google Hong Kong said, "Hongkongers love mobile, with almost 8 out of 10 (79%) owning a smartphone, and are some of the fastest adopters of new products and technology in the world. We're excited to bring the simplicity and security of mobile payments to Hong Kong with Android Pay."