Without a doubt, smartphones continue to revolutionise peoples' daily activities and we constantly look down at the devices while walking, talking, waiting at stop lights and even while driving. A new Yahoo survey revealed that 90% of mobile users do the mobile search daily while 75% users search during commuting, while 73% and 58% at home and office respectively.
A key finding of the study was doing mobile search is a daily habit for Hong Kong people for instant information needs. It occurs everywhere, 75% of them conduct when commuting, 73% at home and 58% in workplace.
The finding showed that users highly rely on top search results on mobile, as 65% says small mobile screen size is the limitation of mobile search, making them less scroll down for more search results.
Location based service (LBS) provides a convenient information channel to the users, 59% interviewees stated using mobile search mainly because of LBS.
Where would users start their search? WAP Search Box (44%) and URL field (42%) are the major channels to lever the mobile search. With only 22% of them using widgets and 27% conducting on APP, it indicated users prefer WAP to APP to look for what they want on mobile in general.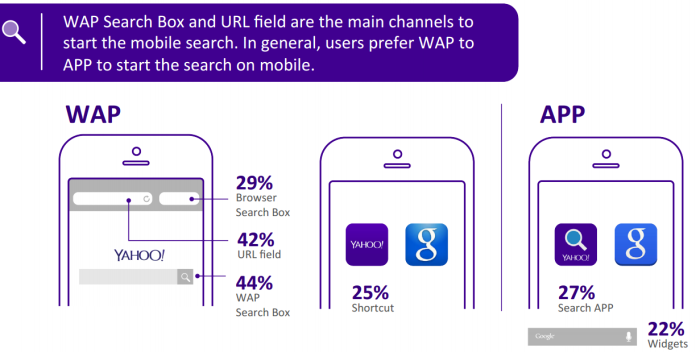 This study claimed mobile search ad is effective to drive revenue, after users viewed the ads, 58% would click the ads and 30% went further to purchase or visit or call for information and reservation.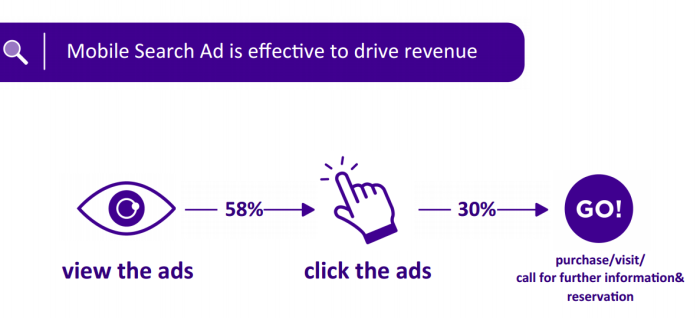 The study found out top mobile search content types are locations, news, social, and shopping. Mobile search on product purchase and restaurant information are also popular with 30% users search restaurants phone number or addresses or websites and 22% online shopping.
Conducted by Yahoo Hong Kong Advertising, surveyed 1,026 local users to measure their search habits and activities on mobile devices, and how they perceive mobile search advertising solutions.