Other than new and traditional OTT (over-the-top) services players like Netflix, LeEco and myTV super, non-video based platforms like Facebook, Instagram or news portals, are all joining in as rising popular video sources for Hong Kongers, leaving advertisers a more confusing and complicated video landscape to navigate.
This latest study from Omnicom Media Group and Toluna, however, may cast some light on the right media combination formula to be used.
The study surveyed 1,000 audience aged 18 to 59 through online questionnaires from 22 September to 4 October 2016, to study how audiences overlap between different video platforms, the content genre they expect from video platforms of different nature, as well as the latest performance of newly emerging digital video platforms.
Key findings include:
It is more common for audiences to watch videos at home(77%).

However, 53% of respondents are watching videos out-of home with digital video platforms and the habit is more popular among 25 to 34 years old (65%).
ViuTV penetration dropped the most in the 'young' segment, myTV SUPER increased among males, especially those of middle-age
Compared to its new launch half a year ago, ViuTV's penetration dropped 15 points. MyTV Super's penetration surged from 12% to 23%, possibly driven by promotions and the Rio Olympic game coverage. Other video platforms have stable penetration, while that of pay digital video platforms grows.
Movies and live concerts are key attractions for Hong Kong viewers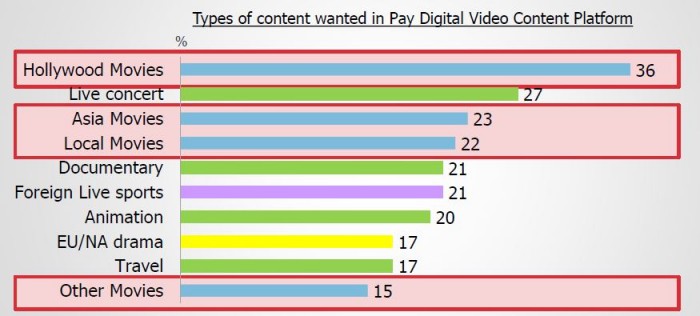 Movies (as highlighted) are a key attraction for Hong Kong viewers, but paid digital video platforms who want to grow their users bases can invest in new content like live concerts, foreign live sports and European or North Asian dramas.
However, pay attention to the platforms type as audiences do expect different content provision.

While local dramas and news are widely expected from free TV, only 12% and 8% of audiences wanted to watch these genres on paid digital video platforms.
89% respondents watch from non-video based platforms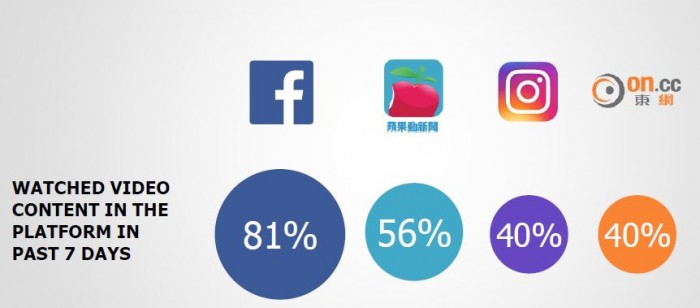 The top four non-video based platforms which are popular as video sources are Facebook(81%), HK Apple Daily 蘋果動新聞(56%), Instagram(40%) and On.cc東網(40%), but time spent on these platforms is only one-tenth when compared to video-based platforms - 3.1 hours per week, probably due the fact that videos on these platforms are usually shorter.
The right formula for media buying combinations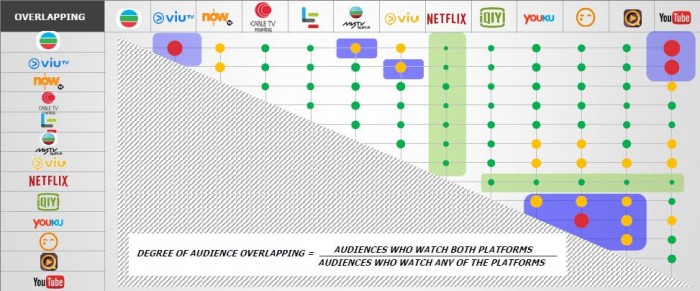 Red bubble denotes >50%, yellow denotes 20% - 50% and green denotes <20%. 
The degree of audience overlap varies by different media combinations, ranging from 4% to 66%. The higher a platform's penetration, the greater the audience overlap.
According to this table, media brands of a similar type, for example TVB, ViuTV and YouTube, are more likely to have a higher rate of overlapping audience.
The table shows that advertising investment in highly penetrated video platforms could potentially bring greater audience duplication. One formula example is TVB + YouTube, which would lead to a 96% combined coverage and 66% overlapped audience.
Alternatively, investing in a few different platforms with relatively low penetration can capture wider audiences. For example, ViuTV + MyTV Super + YouKu leads to 71% combined coverage and 29% overlapping audience.