CMOs are turning to trusted media partners to help solve real problems.
CMOs have more on their plates than ever before. As marketing technologies evolve, so do expectations, and challenges lie in how well they respond to change. This is coupled with the age-old problem of driving short-term results while building a long-term brand.
If that wasn't enough, their roles are being impacted by industrywide issues, such as fake news, ad blocking, a perceived Facebook and Google duopoly and, of course, ad fraud.
[caption id="attachment_191455" align="alignnone" width="550"]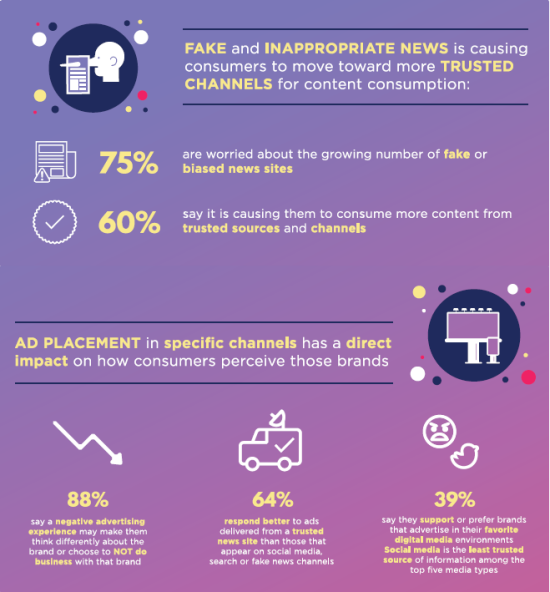 Study conducted by the CMO Council and Dow Jones on Brand Safety, June 2017[/caption]
Major brands have been pulling millions of dollars in advertising this year amid rows over where their ads are ending up on YouTube – and sites that are driven by algorithms.
The digital technology which both empowers and enrages marketers is here to stay - thankfully. But when it comes to creating content and using it in the right medium, it doesn't mean we should act like robots.
CMOs don't want to be sold to
"CMOs don't want to be sold to," said Nicole Bales, Director, Asia Pacific, Integrated Marketing and WSJ. Custom Studios at The Wall Street Journal. "Instead, they are looking for trusted media partners who understand their needs and can work with them to develop genuine solutions."
This is particularly true when a client has a complex issue to solve. WSJ. Custom Studios helped the Japan Cabinet Office spark conversations about the beneficial economic partnership between Japan and the United States.
Japanese companies like Mitsubishi Hitachi Power Systems America, Mitsubishi Caterpillar Forklift America and Toyota Motor Manufacturing have been putting down roots in the U.S. heartland for years. According to official government data, some 840,000 jobs exist in the U.S. because of Japanese investment. Japan has consistently been the second-largest source of FDI; last year, Japanese FDI into the U.S. hit a record $411 billion.
This was the message of the Japan Cabinet Office's recent 'Greater Together' campaign with WSJ. Custom Studios.
[caption id="attachment_191456" align="alignnone" width="500"]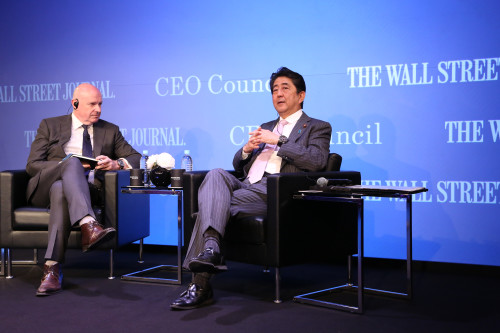 Japan Prime Minister Shinzo Abe on stage at WSJ CEO Council, Tokyo[/caption]
"The campaign timing was critical in countering rhetoric and confronting the Trump administration on the issue of jobs," said Bales. "Through targeted desktop and mobile placements, we invited readers to a campaign hub to view videos and articles which helped them understand the true value of Japanese investment. Then we brought this to life at The Wall Street Journal CEO Council meeting in Tokyo, at which Prime Minister Shinzo Abe was a speaker."
Other internationally-focused campaigns have been created for Tech Mahindra and Morgan Stanley.
India's Tech Mahindra is driving game-changing customer-centric innovations and experiences. In 2016 U.S. growth became a priority, so together, Tech Mahindra and WSJ. Custom Studios created 'In the Future', a three-year digital content program of provocative, future-focused thought leadership content exploring transformative technology and global connectivity. The campaign was delivered straight to global private industry and political thinkers when launched at The World Economic Forum in Davos, and was front and center at The Wall Street Journal's CEO Council meeting in Washington D.C. That content, and more, is permanently housed on the 'In The Future' portal, which is updated monthly. The brand partnership has already placed Tech Mahindra face-to-face with over 600 enterprise CXOs and resulted in millions of dollars of deals.
Immersive storytelling
WSJ. Custom Studios recently launched its first-ever virtual reality film series for Morgan Stanley, which has gone on to win multiple creative awards. 'Capital Creates Change' features stereoscopic 360 experiences, breath-taking video stories and challenging editorial. It takes readers to Kiribati, a Central Pacific island nation at the edge of climate change; the Nevada desert for an eagle-eye tour of First Solar's 2,000-acre plant; and the iconic streets of San Francisco.
[caption id="attachment_191454" align="alignnone" width="500"]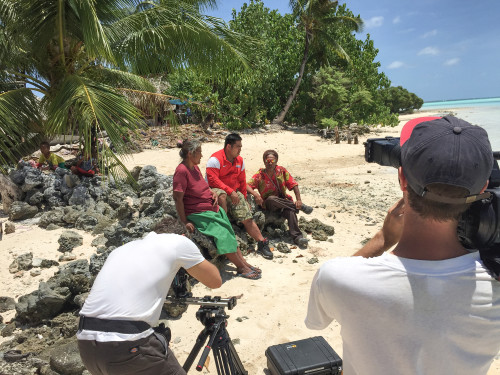 WSJCS Production team on location in Kiribati[/caption]
"The immersive storytelling examines how climate change impacts people around the world and how those affected have found opportunities to foster change," said Bales.
The virtual reality execution was activated at The Wall Street Journal's premier technology conference, D.Live in Laguna Beach, California, and at the inaugural D.Live Asia in Hong Kong event, plus has been used in a Times Square promotion in New York. The campaign has firmly positioned Morgan Stanley as a thought leader and responsible provider of finance to sustainability initiatives.
Campaigns created and delivered where clients need them
This level of storytelling is not confined to international campaigns.
Bales said: "In the last 12 months alone, The Wall Street Journal Japan edition has featured 35 campaigns, ranging from senior executive interviews on the digital transformation of the economy for HP Enterprises, to the spectacular launch of BMW's 7 Series – all targeted at the domestic audience.
"It's all about being with customers on the platforms they prefer. The Wall Street Journal is based on a membership model. So, we tailor our content to what our members want – be it smart words, spectacular visuals or the ability to network with like-minded people at our live journalism events.
"Clients are working with us because we can help them focus on being creative; develop content which carries real messages; and deliver that content in a trusted environment," concluded Bales.
This article is sponored by WSJ. Custom Studios.