Stock images are cost-saving and convenient, so what could possibly go wrong?
This picture, showing the ads of insurance company MCIS and property group Urban Development Authority (UDA) appearing next to each other on consecutive pages in Malaysian daily New Straits Times, has been making its rounds on the internet.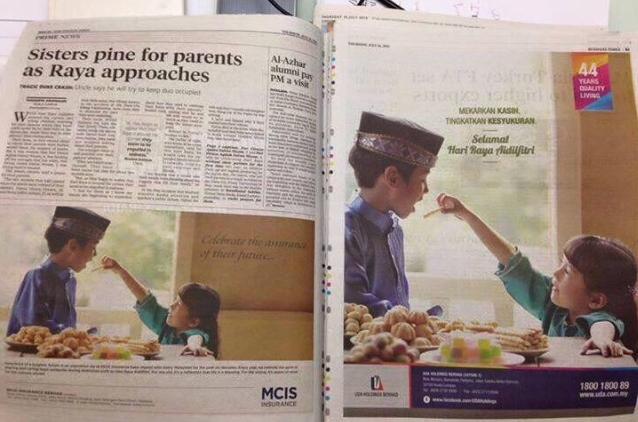 However, a spokesperson from New Straits Times has clarified to A+M that the ads did not in fact appear side-by-side as shown in the picture shared on social media.
Published on 16 July 2015, MCIS' ad appeared on the main news section of the newspaper on page 18 while UDA's ad appeared on the paper's Business Times section on page 3.
A quick check by A+M showed that the same ads are still running on the companies' websites. A+M has reached out MCIS and UDA for comments, with both brands yet to respond.
[gallery link="file" ids="104054,104055"]
A professional from a creative agency who spoke to A+M on the condition of anonymity said that duplications in the use of said images may lead to confusion for consumers as they would be unable to tell brands apart.
He also noted that this stock image nightmare highlights a lack of options in terms of quality images available. He said, "The smaller the pool, the larger the possibility of duplication occurring due to limited choice."
He explained, "The main reason why this is happening is that digital image libraries allow many different parties to purchase images at low prices. In this current age more often than not, communications have to go out at speed and at low prices due to difficult market conditions."
Since brands are not willing to spend on photo shoots, they instead turn to image libraries. "If brands wish to avoid the embarrassment of having their ads side by side with another brand utilising the exact same image, they will have to consider investing in shoots whereby they truly have ownership over the material."
"This will also lead to a higher degree of brand recall and better creatives overall," he added.
Just last week, a poorly photoshopped Ambi Pur ad had gotten the P&G-owned brand in Malaysia much flak online.