The Japan National Tourism Organisation (JNTO) and the Singapore Tourism Board (STB) have entered into a Memorandum of Cooperation (MOC) that will drive greater awareness of both popular tourist destinations and build stronger two-way tourism traffic.
This is the first MOC between both organisations. The occasion also marks the 50th anniversary of diplomatic relations between Japan and Singapore (SJ50).
Held at the Japan Creative Centre, the signatories to the MOC were Ryoichi Matsuyama, president of Japan's National Tourism Organisation (JNTO) and Lionel Yeo, chief executive of Singapore Tourism Board (STB).
A tourism logo has also been jointly developed featuring Hello Kitty and Dori-tan.
This logo symbolises the good bilateral friendship between Japan and Singapore. While iconic Hello Kitty represents 'Cool Japan', Dori-tan represents a five-year-old Singaporean boy who loves Durian and the Merlion, and used to live with his family in Japan.
Dori-tan was first created in 2007 by the STB team in Japan, a spokesperson told Marketing. The airplane depicts the outbound travels from both countries.
This joint logo will be replicated in all tourism promotional materials and activities over the course of the MOC.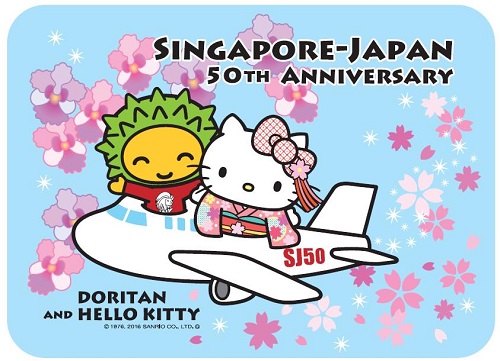 To kickstart the SJ50 partnership, a local food fair will be organised in both countries.
Over 20 Singapore restaurants will be participating in the Singapore Food Fair held in Japan from 1 February to 15 March 2016. Common Singapore local food such as Hainanese Chicken Rice, Chili Crab, Bak Ku Teh will be featured to showcase local cuisine.
Also, the Japanese Restaurant Week held in Singapore from 24 February through 8 March will see participation from over 80 Japanese restaurants.
Both organisations will use Japan's largest gourmet information website, Gurunavi, as a distribution channel to promote the food fair for both destinations.
To mark this jubilee milestone, JNTO has invited Kariyazaki Shogo, a renowned Ikebana (Japanese Flower Arrangement) artist from Japan, to design and create a mega flower exhibit which will be showcased in Singapore Changi Airport. In addition, The Japan Travel Fair, which promotes tourist visits to Japan, will be held in October.
Matsuyama said that Singapore is an important country to Japan for global tourism exchange and he hoped to promote stronger tourism bonds and partnerships between both nations.
"With this MOC, we look forward to more collaborations and joint initiatives to continually build awareness and grow two-way tourism traffic for both our destinations," Yeo said.