Here's the cruel truth: Every year dog meat is eaten during the Yulin Dog Meat Festival in southern China because it is believed to be a tradition that could bring good luck and health. Thousands of dogs would be inhumanely killed, illegally kidnapped and tortured, and their germ-infested meat served to unaware diners.
With more spotlights on the issue, dog lovers and animal welfare campaigners across the globe are desperately calling for a ban on the festival and its dog meat industry. Yet to stop the tradition also requires a long-term battle with education.
This year SPCA Hong Kong partnered up with digital agency Razorfish to roll out a mobile campaign"The Truth Restaurant", disclosing dark realities behind the festival in an interactive way.
By positioning The Truth Restaurant as a high-end culinary experience, when the truth behind the myths is revealed, the reactions are all the more potent. It does not rely on moral supremacy to deliver its message; it uses an unforgettable contrast to get people to question the food they've eaten without fault—the food they've presented to friends and family thinking it was healthy.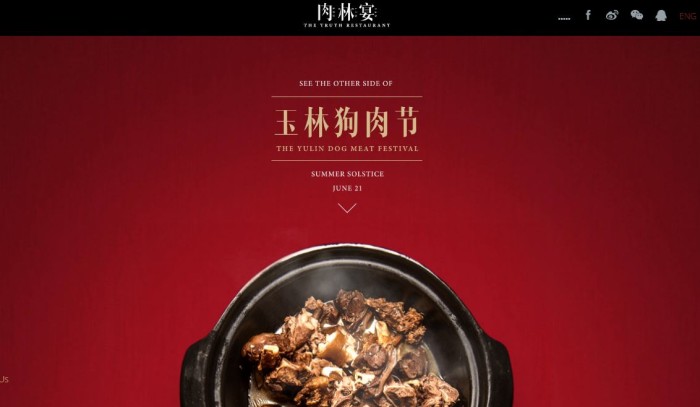 At first, the website showed the festival's traditional perception – a lively event to eat with family and friends.
Then, it invited viewers to use their mobiles to learn more.
Timed to go live for the 2016 Festival, viewers on the platform would use navigation gestures like clawing and scratching to learn about the black market trade of stolen and very ill dogs, the extreme cruelty faced by animals as they are transported and processed, and the unregulated practices that even put humans at risk.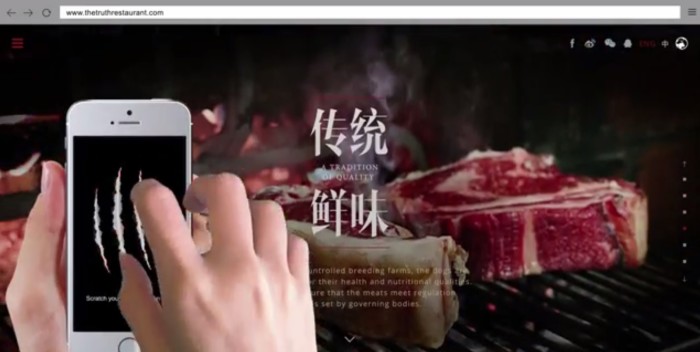 Viewers are encouraged to support through donations, or sharing the experience on social platforms like Facebook, Weibo and QQ. Each donation would turn into a textbook that was distributed to Chinese children so they could learn to respect and protect dogs.
"This is a striking piece of communication that has helped SPCA bring attention to our educational efforts around the Yulin Dog Meat Festival and the humane treatment of animals in China," said Chris Cui, director of China outreach at SPCA Hong Kong.
She said the China outreach department has been working in China since 2009, and initiatives like The Truth Restaurant help in achieving the organisation's aim to expand animal educations. "It helps us educate everyday people (in three languages) and allows us to share the issue with our B2B partners."
Credits:
Razorfish
Art director: Eric Leung
Senior copywriter: Cookie Cheng
Senior account manager: Kristy Tam
Technical team lead: Kevin Ng
PR manager: Rebecca Simpson
SPCA
Chris Cui, director of China outreach
Chris Ho, analyst programmer