As Microsoft prepared to launch its chat and collaboration app "Teams" this Wednesday, its competitor, a San Francisco-based startup named Slack, went to some lengths to take out a full-page "Dear Microsoft" ad in the New York Times on the same day.
The team collaboration app's cofounder Stewart Butterfield posted it to Twitter right before Microsoft lifted the curtains.
That feeling when you think "we should buy a full page in the Times and publish an open letter," and then you do.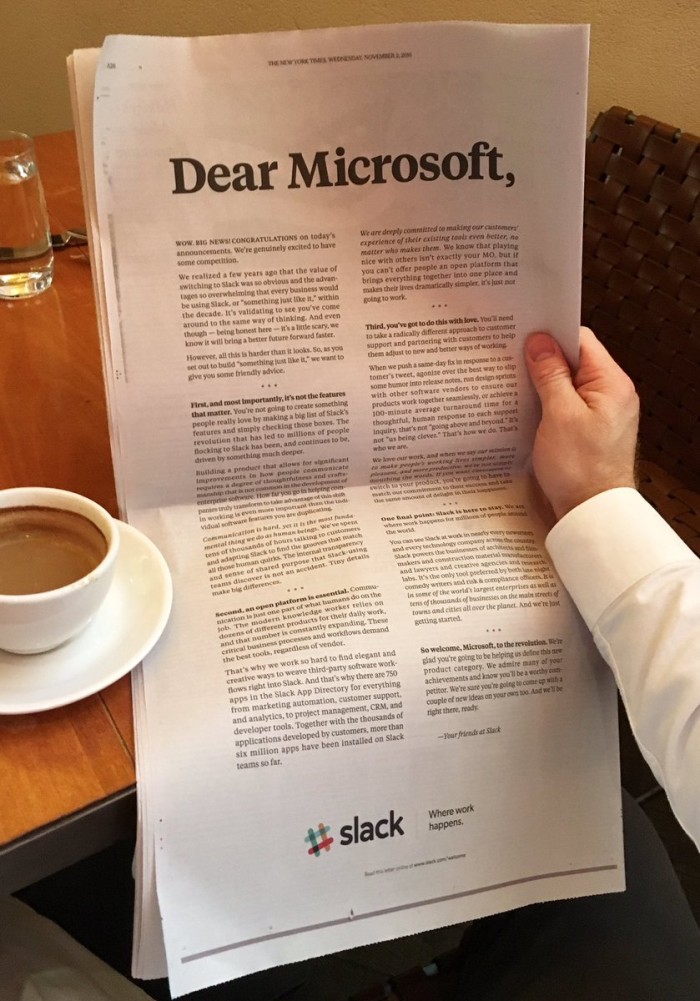 "Wow. Big news! Congratulations on today's announcements. We're genuinely excited to have some competition," the letter started.
"However, all this is harder than it looks. So, as you set out to build 'something just like it,' we want to give you some friendly advice."
It then highlighted three areas where Slack is found attractive by its users, and pointed fingers at Microsoft for not doing enough to succeed in the team collaboration tool realm. "You're not going to create something people really love by making a big list of Slack's features and simply checking those boxes. The revolution that has led to millions of people flocking to Slack has been, and continues to be, driven by something much deeper," it wrote.
"Slack is here to stay," the letter concluded. (Read the full text online here)
Apparently, Slack planned to steal the limelight ahead of Microsoft's launch by showing that it is unafraid of a new major rival - but the whole letter almost sounds like Slack didn't see Microsoft coming.
And turned out the social media got the feeling Slack is scared and worried.
I get the feeling that #Slack is feeling just a *wee* bit threatened by #Microsoft: https://t.co/lnfneuca1C - holy defensive, Batman.

— Michael Laccetti (@mlaccetti) 2 November 2016
Is the Slack office in panic mode? funny blog post #Slack #Microsoft #Office365 https://t.co/jfmosONzX7

— Thomas Maurer (@ThomasMaurer) 2 November 2016
Rudi Leung, director at Hungry Digital Limited, said despite diverse responses, Slack has earned much exposure by inserting itself into the conversation.
"It is not the first time when companies 'welcome' their rivals to the market, and people always enjoy the fun," he said. "In this case, Slack has definitely aroused much attention from those who might never heard of the app."
Only one thing to add - the letter is too long, Leung said.
"They surely have good points in the letter, but I would say Apple has done a more decent ad. Short and concise."
By which he meant the full page ad that Apple published in the Wall Street Journal in 1987, "welcoming" IBM to the personal computer market. IBM overtook Apple in sales just 2 years later.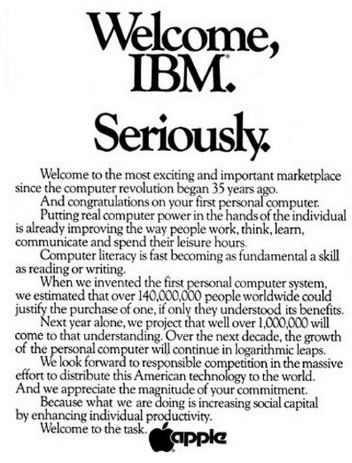 Similarly, music streaming service Rdio also "welcomed" the arrival of Apple Music with a note on Twitter last year. The company died six months later.