Singaporean employers have been struggling to fill up open positions due to the experience and skills applicants' lack.  According to Linda Teo, country manager of ManpowerGroup Singapore, "While artificial intelligence is fast-expanding what can be automated, technology is redefining rather than replacing in-demand roles."
The report added that the hardest job to fill to find include sales representatives, engineers and drivers which are also the hardest to fill.
The demand for driver and customer service officers are on the rise due to consumerism as the online retail trade, logistics and last-mile delivery increases.
However, these roles require new skills and training which will continue to change. Teo also said that the prevalence of e-commerce in Singapore has also driven up demand for drivers and customer service professionals to address companies' growing logistics and last-mile delivery needs. She added that the companies that provide on-demand transportation and delivery services such as Grab and Foodpanda are contributing to the demand.
[gallery link="file" ids="229559,229557"]
Lack of experience a major issue
With companies automating and transforming due to digitalisation, employers seek candidates who hold both the technical skills and human strengths such as communication, collaboration and relationship-building. However, 13% of the surveyed employers said that 13% of the applicants lack either of the required skills.
According to the ManpowerGroup 2018 Talent Shortage Survey that was based on 360 Singapore employers, an estimated one-third of the surveyors felt that the main reason the positions cannot be filled is due to candidates' lack of experience. In addition, 27% said that applicants look for higher pay, while 22% point towards the lack of applicants.
In the Asia Pacific region, Singapore was ranked under the top five of the worst affected markets in terms of talent shortage.
This has pushed employers around the globe to tackle talent shortages by up-skilling the current staff while adjusting the credential requirements as well as recruiting more mature workers who bring with them experience and prior skills.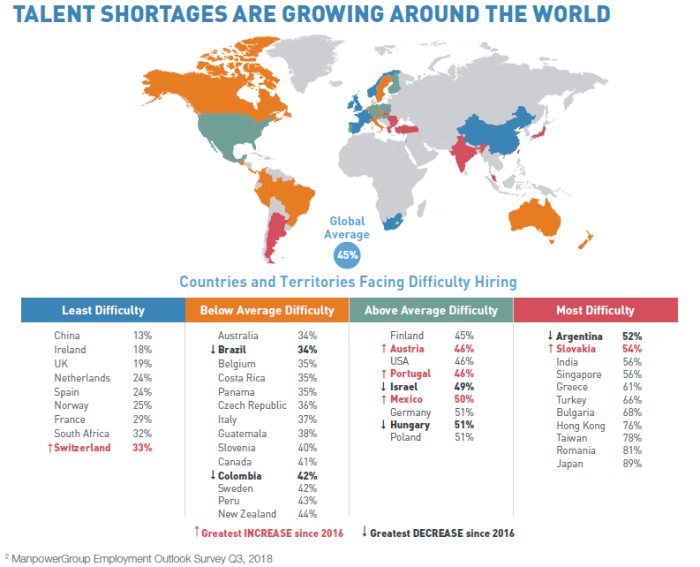 Teo explained that it is time for a new approach of attracting, recruiting and retaining talent. "Employers need to buy skills where necessary, borrow from external sources and help people with adjacent skills bridge from one role to another.  We need to value potential over performance. Above all, we need to be builders of talent, rather than consumers of work to create a workforce with the skills companies and individuals need to thrive today and tomorrow," she added.
[gallery link="file" ids="229558,229556"]