Singaporean consumers have chosen humour and fun as values that attribute to their character in a National Values Assessment survey conducted between March and May this year.
According to The Straits Times, around 2,000 Singaporeans were asked to pick 10 words to best describe them. These values they pick has to be based on themselves as an individual as well as Singapore's current society and their belief of the ideal Singapore society. The study was conducted by local business consultancy aAdvantage and Britain-based Barrett Values Centre.
Apart from humour and fun, the participants selected family, compassion, health and honesty and many others, which could be attributed to prioritising personal well-being, the report said. These attributes were among the seven "potentially limiting" ones that aAdvantage and Barrett Values Centre identified in Singaporeans' perceptions of their society that could be harmful in excess.
Marketing has contacted the Institute of Policy Studies for details.
In this year's survey, Singaporeans picked family, friendship, caring and compassion for qualities that describe them best, the survey findings show. However, the article adds that during the survey, participants used the term "kiasu" when describing fellow Singaporeans, suggesting that they were "complaining and competitive".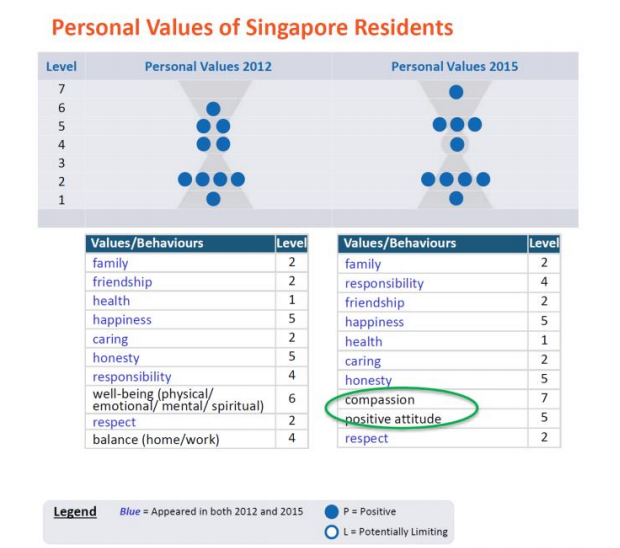 As for the 2015 survey (figure above), terms such as "kiasu", "kiasi", "self-centred" and "competitive" were still prevalent, others such as "deteriorating values" and "uncertainty about the future" were replaced in the list of top 10 descriptors cited in 2012 by more positive descriptors such "effective healthcare" and "peace".