Singapore has been ranked the most robust market out of 10 Asian countries, including Malaysia, Indonesia, Hong Kong and China, in terms of business operations for data centres.
According to Cushman & Wakefield's Data Center Risk Index, Singapore scored 84.50 out of 100, ranking strongly for network infrastructure, diverse connectivity to major Asia Pacific markets, its pro-business environment and political stability. South Korea came in second at a score of 83.23, followed by Hong Kong (78.73) and Japan (76.48).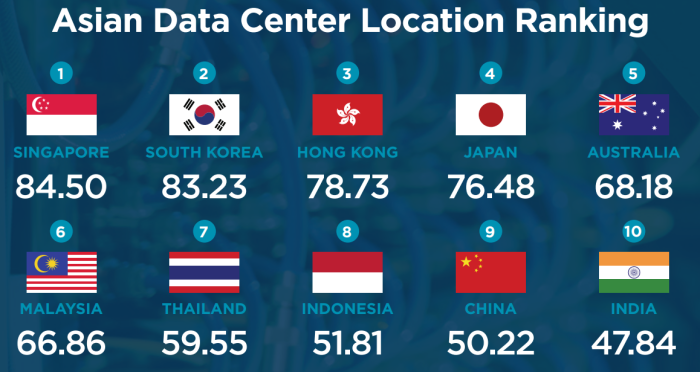 According to the index report, Singapore currently tops the Asia Pacific data centre market in terms of capacity, with a current total supply of 370 megawatt (MW) of IT power supply among co-location operators. It has also seen an influx of new data centre capacity in the last two years. Despite the price and vacancy pressure among smaller data centre players, the index report stated that Singapore should be able to expand its capacity by another 100 MW as the government pushes for the Smart Nation initiative.
Local data centre providers such as Singtel, Keppel Data Centres and ST Telemedia will primarily benefit from the expansion of capacity, while international data centre providers will continue to focus on collaborating with medium to large enterprises coming into Singapore.
The explosive growth in data creation and data storage is set to continue, with Asia Pacific's data centre market increasing significantly and even surpassing the European market by 2021, which according to Cushman & Wakefield, were stated in recent reports. The surge in data consumption in the region is currently driving the increase, and mobile data usage has increased in Asia Pacific in recent years. In 2016, Asia Pacific achieved 3,109,117 terabytes in monthly mobile data consumption, and is expected to reach 22,845,908 terabytes per month in 2021.
Read more:
Visa launches Southeast Asia data centre
IBM partners with EDB and MAS to establish data centre
LinkedIn opens data centre in Singapore
Singtel pumps SG$400 million for new data centre
Google invests a further SG$404 million in SG-based data centre
Dentsu Aegis Network launches global data innovation centre in Singapore
Cushman & Wakefield's index report predicts that investment in data centres will leapfrog, as data centres present a fast-growing and appealing investment asset class. Tycoon Oei Hong Leong is investing SG$6.73 billion to form a new company named "One Belt One Net" that will build data centres, procure equipment and machinery, develop software, as well as recruit and train employees. According to the company, Oei expects the data storage business in Singapore to benefit from China's "One Belt, One Road" initiative, which promotes infrastructure development across Asia, the Middle East and Europe.
However, the index report noted that data centre investment "is not for everyone" as construction costs can run from US$100 million for a multi-tenanted facility, to approximately US$1.5 billion for a cloud campus housing several buildings. The high barrier to entry, Cushman & Wakefield noted, helps to keep competitors at bay.
Cushman & Wakefield's index identifies the top risks likely to affect data centre business operations. It considers criteria such as energy, internet bandwidth, ease of doing business, political stability, natural disaster and energy stability.