In the next five years, spending on media and entertainment is projected to rise at an overall compound annual growth rate (CAGR) of 3.5%. This translates to US$5.6 billion in 2017 to US$6.7 billion in 2022, a recent PwC report read.
The local internet advertising market is expected to grow at 8.4% CAGR to reach US$453 million in 2022. Mobile advertising, which accounts for 49% of the spend, will continue to dominate, along with wired paid search (around 35%). According to PwC, mobile advertising is set to reach US$261million in 2022, accounting for 58% of revenue, while paid search revenue is forecast to come to US$135 million.
In 2017 advertisers spent US$302 million on internet advertising in Singapore, an increase of 13.7% on 2016. The report added that this was benefited from Singapore's robust digital infrastructure, which saw 1.3 million households being connected to high-speed broadband and 5.5 million high-speed mobile connections in 2017.
Magazines to see marginal growth, newspapers continue decline
The market for magazines and newspapers will increasingly follow the trend to move from print to digital formats, with consumer magazine digital revenue growth finally offsetting traditional revenue decline in 2018.
The market for magazines in Singapore will grow marginally over the forecast period at a 0.4% CAGR to reach US$147 million in 2022. Revenue from consumer magazines will be in the region of US$129 million by 2022, while trade magazine revenue will remain around US$17 million, the report said.
Singapore's newspaper market also fell to total revenue of US$794 million in 2017, marking its third consecutive year of declining revenue. Both print circulation and advertising revenues are projected to fall each year to 2022, as growth in digital struggles to make up for contractions in the print market. As such, as print advertising revenue declines, ad campaigns have had to be increasingly innovative, the report added.
The Straits Times is the most-read newspaper in Singapore, with a daily circulation of 383,600 in August 2017, according to Singapore Press Holdings. Other popular titles include the Chinese-language papers Shin Min Daily News and Lianhe Zaobao, with circulation figures of 134,300 and 197,500 respectively.
Meanwhile, Singapore's radio market is set to return to growth in 2019, following several years of "contracting revenue", the report read. Total radio revenue in Singapore is expected to hit US$124 million in 2022, after rising at a 0.3% CAGR over the next five years.
Advertising accounts for 100% of radio revenue in Singapore, with 30-second slots costing up to SG$440 (US$329) on popular stations such as Kiss 92 FM. The report also added that the most popular radio station in Singapore are Chinese-speaking, with Mediacorp's Love 972 taking the top spot and a 19.9% share of listenership according to Nielsen.
Total TV advertising revenue is projected to grow at a 0.5% CAGR to US$349 million in 2022. Some 83.1% of the US$341million TV advertising revenue was attributable to terrestrial channels in 2017, although this will fall back to 78.2% in 2022 as pay-TV expands and terrestrial drops slightly.
Terrestrial channels continued to dominate advertising expenditure in Singapore, reflecting the desire for companies to reach the largest possible audience, the report explained.
Total out-of-home (OOH) advertising spend came to US$150 million in 2017 and this is forecast to climb to US$180 million in 2022. Digital OOH (DOOH) revenue is set to account for 48.9% of total OOH revenue in 2017. Its share is forecast to reach 63.3% in 2022.
Paid subscription models on the rise
Paid subscription models have also been "picking up rapidly", the report added, with music streaming revenue expected to account for around 90% of the total recorded music revenue by 2022. PwC added that while encouraging a membership mind-set has its benefits to allow a company to sell premium experiences, products and benefits; it has also presented another challenge which sees brands being unable to reach their audience through ads.
Digital music streaming revenue grew from US$2.9 million in 2013 to US$20 million in 2017, and is expected to climb to US$62 million by 2022, increasing at a 25.2% CAGR. Five years from now, on-demand platforms are also expected to generate over 98% of the value for Singapore's entire digital recorded music market, according to forecasts.
Singapore's music and radio market was worth US$205 million in 2017, up from US$191 million in 2013. A surging digital market should boost recorded music revenue in the coming years and lift total music and radio revenue to US$256 million in 2022, at a 4.5% CAGR. PwC added that Singapore is ripe for streaming music services due to its high smartphone penetration.
In a statement, Oliver Wilkinson, entertainment and media leader at PwC Singapore, said that in Singapore, the firm is observing "a greater sense of urgency now as the status quo is being disrupted". He added that the overall media industry growth is a "little below the pace of GDP", with the pie being divided by a greater number of players as consumer choice proliferates.
"To succeed in that tough environment, incumbents need to nurture new revenue models, apply data analytics and continually refine the user experience to engage fans," Wilkinson added.
Mark Jansen, technology, media and telecommunications leader, PwC Singapore, added that to succeed in the future, companies cannot just repeat the past. With the combination of new technologies and big data capabilities, there is a need to be more outcome-aligned, along with the measurement of success.
He added that in the advertising space, programmatic bidding will be increasingly the norm, and the expectation will be performance-based metrics that are more real-time allowing for greater and more specific customer experiences.
"The big question will be in regard to trust and transparency, in how data/ personal information is handled and with transparency of outcomes and pricing models," Jansen added.
Globally, total spend on media and entertainment will rise at a CAGR of 4.4% over the next five years, from US$1.9 trillion in 2017 to US$2.4 trillion in 2022. The report found that the fast growth will be seen in digitally-driven segments, with virtual reality in the lead, followed by over-the-top content (OTT).
E-sports will also be the second fastest-growing segment if it were separated from the overall video games and e-sports segment. Meanwhile, newspapers and magazines will see declines in revenues to 2022.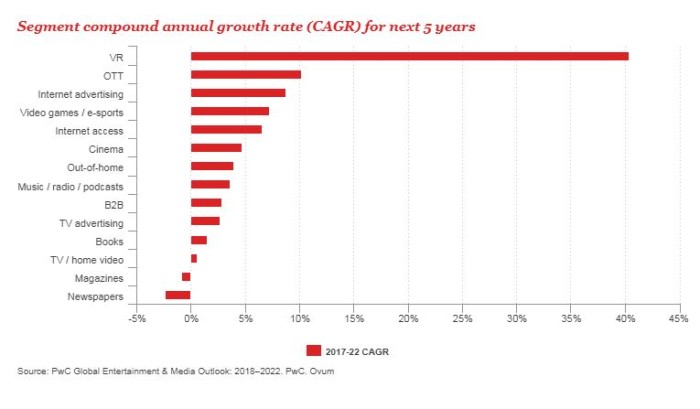 PwC's 19th annual edition of the Global Entertainment & Media Outlook is an global analysis for consumer and advertising spending. It covers 15 defined industry segments in 53 territories, in a bid to compare and contrast consumer and advertising spending across segments and territories. These industry segments include cinema, data consumption, internet access, internet advertising, magazines, music, radio and podcasts, newspapers, out-of-home advertising, OTT video, traditional TV and home video, TV advertising, video games and e-sports, virtual reality, to name a few.