Singapore Airlines has emerged the top brand Singaporeans want to work for, attaining the highest score of 61.0. This is followed by Facebook (49.3) and Apple (45.8) which took second and third place respectively, according to YouGov's 2018 Workforce rankings. Google and YouTube also took the fourth and fifth spot with the scores of 42.9 and 38.7 respectively. See the full ranking here:
Meanwhile, Samsung has nabbed the top spot as the most improved brand when it comes to brands Singaporeans would be most proud to work for. Its score improved from 24.7 in 2017 to 32.3 in 2018. Coming in second is Lazada, which saw a five point improvement from 12.1 in 2017 to 17.1 in 2018.
Meanwhile, third most improved brand is Instagram (28.6), followed by LinkedIn (18.1) and Alibaba (10.5). Malaysia Airlines also saw a 2.8 point improvement, moving from -23.6 in 2017 to -20.8 in 2018, being the only brand in the top 10 with a negative point rating.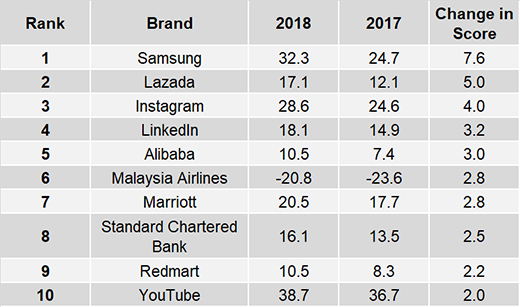 The results were attained from the YouGov BrandIndex, which ranked 365 brands using its reputation score. The study asked respondents which were the brands they would be proud to work for and those that they would be embarrassed to work for. Findings from the Workforce rankings chart were attained for the period between 1 May 2017 and 30 April 2017.
Meanwhile, the Reputation Improvers chart ranks the brands with the highest increase in Reputation comparing the scores for the 12 months ending 30 April 2018 and the 12 month period ending 30 April 2017.