As I stood twiddling my thumb on my mobile, my mother struggled to read the label on the packaging of dried fruit snacks. She had heard about unhealthy levels of sodium in that product and was concerned whether to make the purchase or not.
Unfortunately, she had left her prescription glasses in the car and was having a difficult time reading the information at the back of the pack.
My mother is 58 and this is not a problem uncommon among those in that age bracket.
According to Nielsen's latest survey, Turning Silver into Retail Gold, 67% of elderly consumers aged 55 years and above have indicated that more products need to have clearly labelled nutritional information.
This group also currently accounts for 40% of Singapore's grocery spending and is projected to grow to 24% of the overall population by 2030.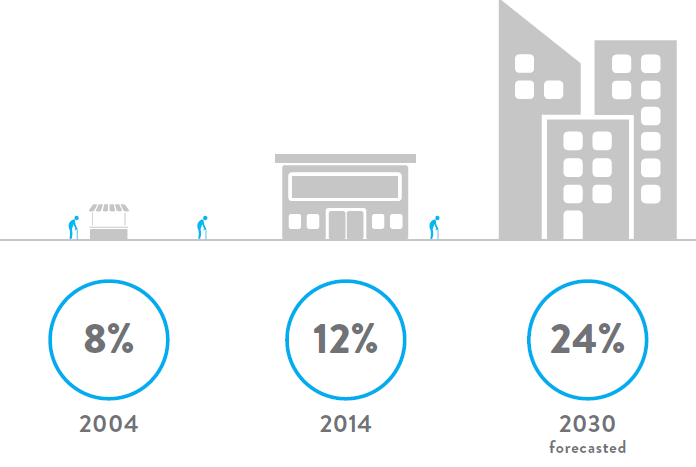 Clearly, they present viable business opportunities for retailers and manufacturers. But are local retailers and brands aware of this potential? Is there enough being done to win the hearts and carts of these players?
"In forty years time, nearly four out of every 10 Singaporeans will be over 65 years old. So reviewing how your brand caters to older consumers isn't just good PR, it's good business sense," says Katie Ewer, strategy director for JKR.
And this isn't just about making labels easier to understand with bigger type; it's also about making packs easier to open, making products easier to find and making supermarket navigation more straightforward.
"Bear in mind that in 40 years, all those silver consumers will also be silver surfers, buying their groceries on line. Making sure that your brand can get noticed and chosen when it's 16mm high on a mobile page, is a consideration that's been woefully neglected by brands and online retailers alike," she adds.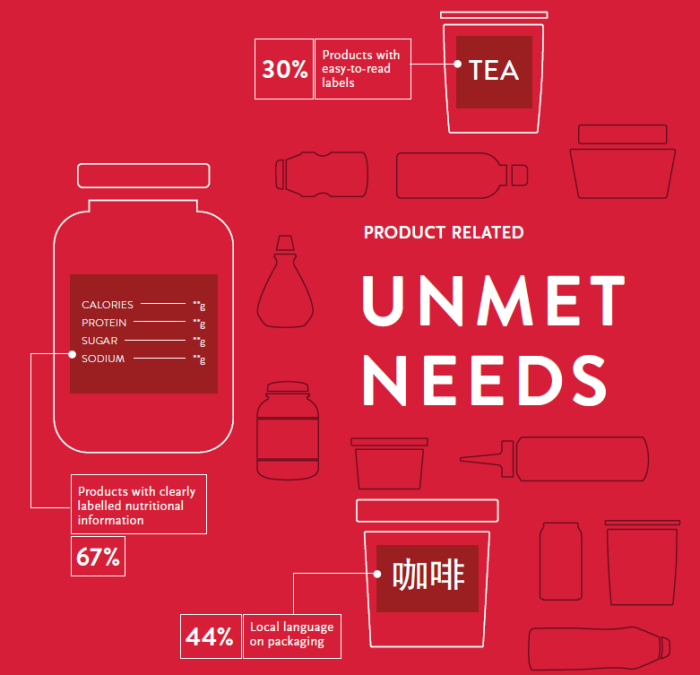 Gale Choong, head of marketing at Unilever Singapore, who makes routine retail checks, agreed with the survey results and said there hasn't been a "massive conscious effort" from FMCG players. This is despite many recognising the trend and the need to adapt to suit the silver generation. But she noted, food is a growing area of experimentation.
Herve Simon, group marketing director for Ayam Brand, also shared that going forward the market will see many companies create products that are geared to the ageing population.
He said that for food brands, an ageing population means an evolution of nutrition.
Hence, the focus for brands will be a shift in creating food products which will address the nutritional changes for that segment, with a key concept of ageing well. For Ayam Brand specifically, fatty fish and coconut products are two main categories under its umbrella, the brand intends to capitalise and promote.
Dairy company FrieslandCampina is also a fast mover into this field, recognising the growing elderly segment is an important one in Asia. Last year, it created Optimel, its first product in Asia, which was launched in Hong Kong and targeted at those 40 and above.
The various ranges further broke down the categories into 40+, 50+ and 60 and above and respectively catered to the nutritional requirements and needs of people in each of the age range.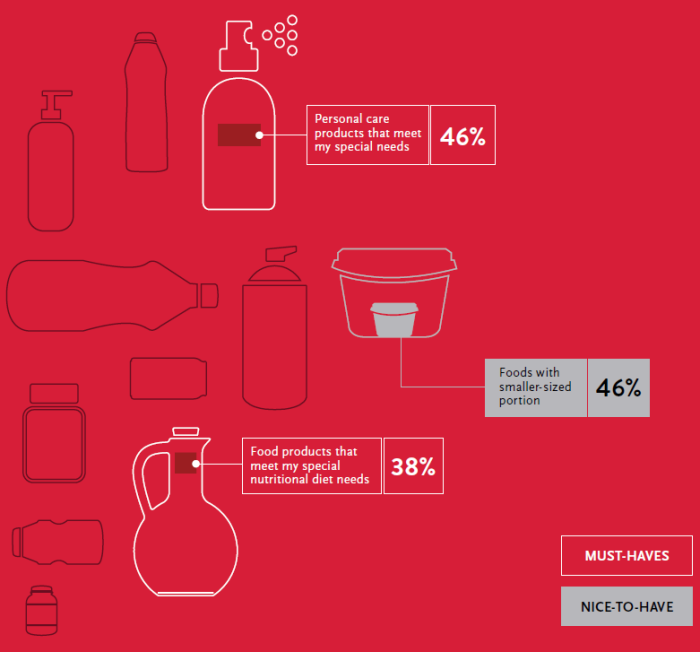 Ada Wong, head of public affairs and communications at FrieslandCampina Asia, explained the company saw the "rising trend towards self-care and taking ownership of one's health and nutrition" among older consumers and has worked with local retail partners, health authorities and other relevant stakeholders to ensure it could meet the nutritional needs of consumers worldwide.
Chris Martell, managing director of Geometry Global Singapore, however, was of the view that the top unmet needs of today's ageing shopper, complements larger consumer trends.
There is currently an increased focus on health and wellness, and this is not unique to elderly shoppers alone. Much like their younger counterparts, the elderly, especially those in developed economies, are reinventing ageing by living longer, busier and more satisfying lives aided by technology.
Hence, brands and their retail partners need not simply look at solving problems for the elderly, but rather shoppers as a whole.
Dedicated investments
From the same Nielsen survey, 65% specified that they have difficulty in finding shopping aisles dedicated to ageing-needs products. As such, we asked retail players if dedicated aisles for older generations were needed.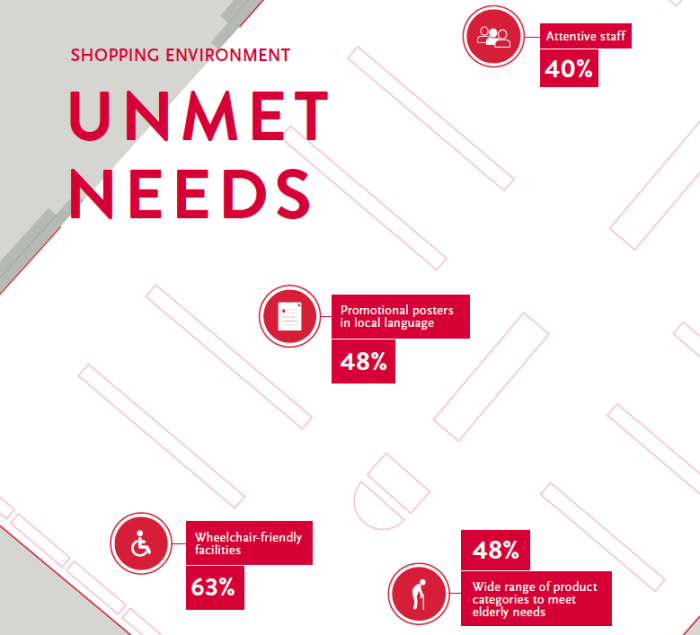 Gerry Lee, deputy CEO of Singapore at NTUC FairPrice, told Marketing that recognising the growing segment of seniors in Singapore and the need to cater to its needs, FairPrice has piloted stores in the Bukit Merah and Lengkok Bahru areas which are specially catered towards such customers.
Some of the features found in the stores include wider checkout lanes, larger signage and clearer price tags, rest areas with benches and water coolers, and call buttons and magnifying glasses around the stores.
"We've also introduced a dedicated aisle for products which are targeted for seniors' needs such as grip bars, adult diapers and dietary supplements," Lee said. NTUC FairPrice is also working with HPB to include collaterals in its stores which helps encourage healthy eating and grocery shopping.
It runs promotions such as a 2% seniors discount on Tuesdays for those 60 years of age or older, and a 3% Pioneer Generation discount on Monday to entice the older shoppers; and more than 100 of its frontline staff have also undergone specialised training on how to serve seniors. While Martell
encourages brands to make investments which make life easier for the older shoppers, he added brands need to be smart about how they spend their marketing dollars.
He said:
If planning dedicated products/experiences for ageing consumers, then design for older eyes and amplify the brand through emotional and functional benefits they care about. Beyond that, age is just a number.
Moreover, product visibility today isn't just an issue for older eyes. Many categories in stores, as well as online, are far too complex and are merchandised with little thought to how a shopper decides on what to purchase.
"This is damaging for the retailer and brands being sold, while the consumer may be missing out on benefits from a product he/she didn't even notice," he said.
In many categories, he explained, it's less a matter of segmenting products or experiences by age, and more a matter of investing in the experience overall – simplified information that helps shoppers make better choices being key here.
In categories, age segmentation of products could benefit the experience and differentiate a brand, but more important is clearly communicating the benefits this generation cares about for the product to standout.
Kim Walker, CEO of Silver Group Asia, said that having shopping aisles dedicated to ageing-needs products works for "age-silo" products. Older consumers, depending on their age, buy a much wider range of products and services. Hence, creating a dedicated aisle and attempting to bundle all "ageing" products into a specific store or aisle can lead to retail failure.
Marketing by any age segment is a very delicate task whether teenage or an older age. Many older people resent being overtly marketed to on the basis of their age. That's why so many age-based marketing initiatives aimed at older consumers have failed.
Like any other consumer segment, attitudes and purchasing patterns of older shoppers will be influenced greatly by life stage, income, education, age and, in the unique case of older consumers, their physical condition.