Nine months after Scoot and Tigerair announced their intention to pursue a single brand and operating licence under the enhanced Scoot brand, the airline industry today bade farewell to Tigerair Singapore as its last flight departed Singapore for Tiruchirappalli at 2305 on 24 July.
All previous Tigerair flights will now be operated under the Scoot brand and Scoot flights will operate under the TR flight designator code. In conjunction with the brand enhancement, Scoot has also changed its "Get Outta Here!" tagline and adopted a new slogan "Escape the Ordinary".
"Scoot's new tagline, Escape the Ordinary, is reflective of our growth as an airline brand," said Scoot CEO, Lee Lik Hsin.
"It is more relevant to the global market now that our network has grown as it is aspirational to our inner wanderlust, and inspires us to travel and explore the world," he said.  He added that the end of Tigerair's journey opens up a brand new chapter for Scoot with more "spunk" and "sass".
Meanwhile, a new campaign has also been launched with the help of creative agency, Publicis Singapore. The campaign titled  "Permitted On Board" is aimed to help launch Scoot into 35 new destinations while challenging the conventional budget-airline notion: low-cost means low expectations.
"Consumers have low expectations of low-cost carriers (LCC)," said Jacqueline Loh, head of marketing, product and ancillary revenue at Scoot. "When they choose to fly budget, they are prepared to trade off certain inflight 'luxuries' such as legroom, overhead cabin space, inflight entertainment found on full-service airlines. We don't believe flying budget should be a bland experience!"
With the airline industry increasingly clamping down on what passengers can and cannot bring or do on flights, Publicis Singapore fused fun and a pun on "Permitted On Board" to draw attention to what sets Scoot apart from other budget carriers.
"This is a huge opportunity for Scoot to define its role and position in this fast-changing category," Lou Dela Pena, CEO, Publicis Communications Singapore, said. "As a brand with an innate openness to bold ideas and a zeal to lead the change, Scoot is a great and inspiring partner, and we could not be prouder to work with this brand."
"Permitted On Board" will simultaneously roll out globally starting 26 July. The campaign will run on paid digital channels across all of Scoot's markets; on print media across Singapore, Australia, Taiwan, Malaysia, Indonesia and India; on radio in Singapore, Australia and India; and on outdoor channels in Taiwan. Additionally, there will be inflight and on-ground activations on select flights and markets.
This is the biggest campaign that Scoot has ever done across its network, and one that will run across both external and internal audiences.
New uniforms
Beyond new destinations, Scoot's crew members, affectionately named Scootees, will be outfitted with new uniform designs bearing a refreshing, yet distinctively Scoot look. The new uniform for female crew members cuts a flattering silhouette with its asymmetric dress design and higher waistline, while that for male crew members features sharper angles for the yellow highlights on the polo shirts.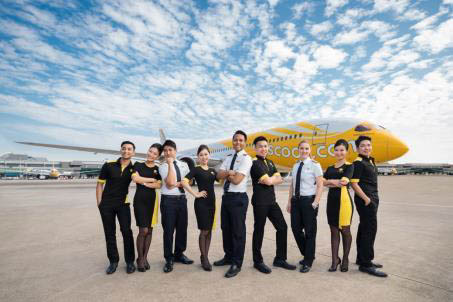 Both male and female crew uniforms also feature fun details, such as black buttons sewn on with yellow thread to provide a subtle feature for the male crew uniforms, and thicker fabric for the Scootees to stay warm during cabin service. The new uniforms represent a fresh start for crew of both airlines, while Scoot's signature black and yellow colour combination has been retained, carrying on the spirit of fun and spontaneity of the Scoot brand.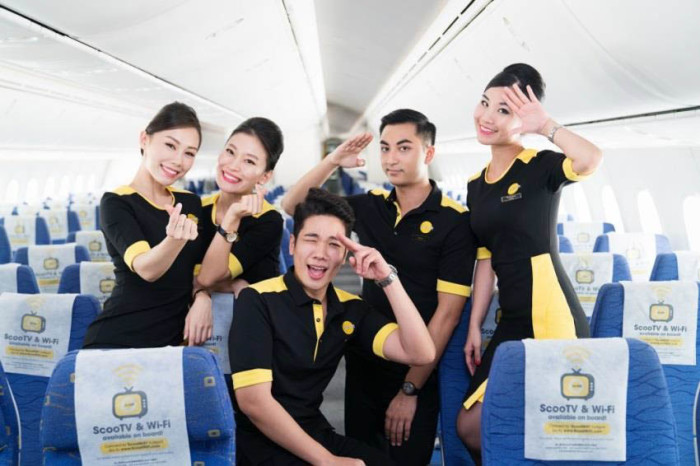 Scoot also rolled out its first A320 aircraft, previously operated by Tigerair and repainted with the Scoot livery, named "Conscious Coupling" in commemoration of the integration between Scoot and Tigerair. The current Tigerair fleet will be progressively repainted and the complete livery change is targeted to be by mid-2018.