Scoot is giving, yes giving, tickets to its shortlisted agency partners to various destinations in a bid to help them understand the brand better and experience the airline's service.
The tickets fly to destinations such as Bangkok, Hong Kong, Dalian and Kaohsiung where agencies would be able to fly on Scoot's 787 Dreamliner. According to the spokesperson, Scoot's 787 Dreamliner is a key product differentiator and it wanted the agencies to experience the product first hand. The flights also vary in flight duration and daily frequency so agencies have choices, depending on the time they have.
Marketing understands around seven agencies were shortlisted, the agencies are BBH, BBDO, BLK J, GOVT, Tribal DDB, WE Communications and Edelman. In a conversation with Marketing, a Scoot spokesperson explained that 20 agencies were handpicked for the RFI round, and efforts were made to know each agency through coffee sessions first.
"We wanted them to have a taste of our fun personality and liked the idea of surprising them, so we sent them boarding passes by 'snail mail'! We're excited about establishing a new partnership when we conclude the RFP exercise in the coming months," the spokesperson added.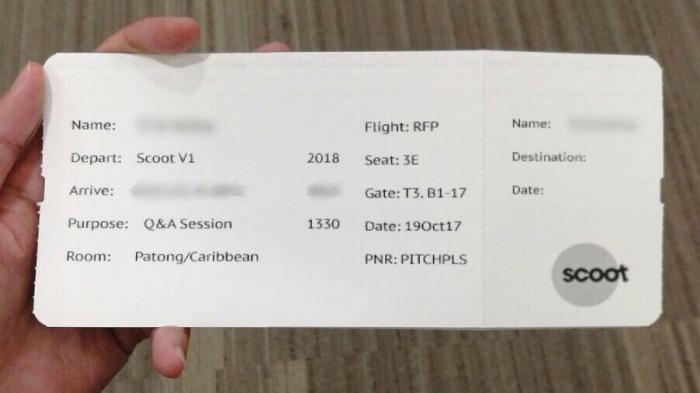 The RFP will consist of two parts – brand marketing and social media marketing. According to a brief seen by Marketing, the agencies are tasked with creating a top line 12-month communication strategy which will better place Scoot in terms of consumer consideration.
The strategy also needs to have a creative approach and expression of its brand voice in the communication. The agency will also aid in launching the brand's new flight products to ensure consistency across its various fleets and further different Scoot from low cost carrier competitors.
"Apart from agency capability and creative aptitude, we value great chemistry and a shared purpose with the people we work with," the spokesperson said.
In September, Scoot confirmed to Marketing that it was speaking to several agencies with regards to a closed door creative and social pitch. The initial contract is for a period of two years, with options to extend. Scoot was initially looking to conclude the pitch by January 2018 and work will roll out from its next financial year starting April 2018.
Days after calling for a creative and digital pitch, Publicis terminated its contract with Scoot. In a statement confirming the move to Marketing, a spokesperson from Scoot said it has acknowledged Publicis' termination. When asked how the company was planning to expedite its appointment process, Scoot said it is currently working out an interim plan, and is confident that its in-house team, along with freelancers and content producers who it works directly with, will be able to absorb the bulk of the work.
The airline has often been lauded for its cheeky campaigns and has worked with Publicis since 2013 for many of its award-winning executions. Last year, the brand landed a hat trick at the fifth Marketing Excellence Awards in Singapore, being named Marketer of the Year for the third consecutive year in front of over 500 marketers. Scoot and Publicis first started their journey four years ago. The two worked on campaigns across markets such as Singapore, China, Thailand, Hong Kong, Taiwan, Japan and Korea.
Marketing understands that the current review is part of the procurement process. Most recently, after Scoot and Tigerair announced their intention to pursue a single brand and operating licence under the enhanced Scoot brand, Scoot changed its "Get Outta Here!" tagline and adopted a new slogan "Escape the Ordinary".