Online lifestyle news organisation Sassy Media Group has expanded to Singapore, Dubai and Australia.
The Singapore and Dubai sites will be run by Sassy business partners who have recently relocated to those cities from Hong Kong. These sites will be mainly owned by Sassy Media Group with a small percentage owned by local partners. Sassy Mama, the version of the site targeted at mothers, had been launched in Singapore in early 2013.
The Australian Gold Coast site is run by a licensee, who will also be operating the upcoming Brisbane, Melbourne and Sydney sites to be launched in phases. The next site to be launched is Sassy Brisbane, with its preliminary launch date slated for early 2015.

There are currently 11 members of staff in the Hong Kong office, with three in regional roles. Headquartered in Hong Kong, Sassy Media Group was founded in 2009 and received around 7 million page views last year.
The Singapore office is staffed with two editors and two sales and marketing people while Dubai has one editor and one sales and marketing person.
"Our revenue model is the same in all countries – ads and sponsored content on the website, a weekly newsletter and events with partners who act as our sponsors," Maura Thompson, managing director at Sassy Media Group, said.
"As we expand, we hope to maintain the original purpose for which we started the business – bringing girls together in community with each other – while growing at the same time."
Most of the site's revenue comes from advertising and sponsored content. The next biggest revenue stream is events.
She says the success of breaking into new markets depends on the relationships of business partners on the ground, such as knowing public relations people, working with businesses who target the same demographic as Sassy and organising events where girls and moms can engage with the news site that will also enable cross-promotion with brands.
While Sassy Hong Kong is often stereotyped as a publication for expats, Thompson hopes to also tap into local audiences in the new markets.  However, she admits that starting off with expat readers is usually the path of least resistance.
"The easiest path in a new country is to tap into the expat market first and then build up our readership from there. With Dubai, we would focus on expats and people influenced by the West in the beginning. In Singapore and Australia, we can tap into the local market more easily as an English-language publication," she said.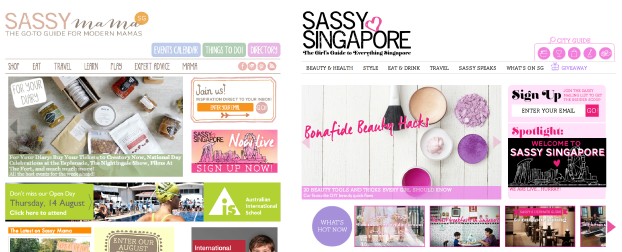 The concept of Sassy does not remain static across markets – for example, the Gold Coast site would probably feature more beach-related content whereas the Hong Kong content is more urbanised.
Licensing out the brand in Australia 
Around a year ago, the Sassy Hong Kong team received an email from a woman who had attended Sassy events while she was living in Hong Kong. Having moved back to Gold Coast, she asked if she could run Sassy websites in Australia as franchises.
"We had no one on the ground in Australia, which means no expertise or resources, and it's a big market," Thompson said.
"The opportunity presented itself to us and we had a business partner in Hong Kong who was experienced in licensing. We weren't going to move to Australia. Giving a license means we can expand to that market without diverting attention away from our own sites."
The Australia team had flown over to Hong Kong for training and to learn about the Sassy philosophy and content strategy. They are given the right to use the Sassy brand name and framework but has editorial freedom over their own content. Sassy will continue to conduct strategy sessions with them to ensure that the overall Sassy content strategies remain aligned.