Germany's JACDEC institute has disclosed this year's Airline Safety Ranking, and Hong Kong-based Cathay Pacific was the safest airline in 2016.
The ranking was compiled on the basis of national air safety reports of the past 30 years, by measuring the number of casualties and crashes against the airlines' travelled kilometers and passenger numbers. An airline without any loss of life and planes is given an index of zero to 0,001 points.
On the list, Cathay Pacific ranks top of the chart. Runners-up were Air New Zealand and China's Hainan Airlines.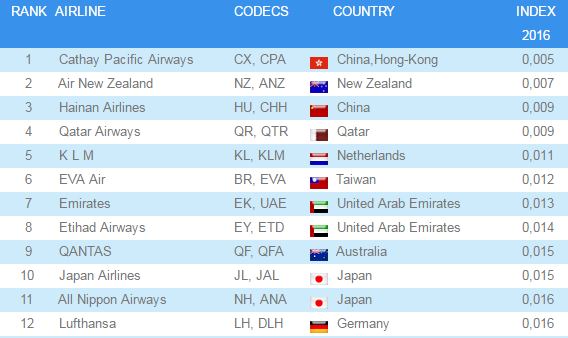 Taiwan's China Airline came in bottom of JACDEC's list of 60 globally operating carriers. Colombia's Avianca scored a value of 0.914 - the second-worst in 2016.
In 2016, JACDEC recorded a total of 321 fatalities, 376 incidents, 219 serious incidents, and 37 hull losses among the carriers surveyed, making it one of the safest years on record.