Founded in 1949, the renowned German sportswear brand adidas Group has conquered most of the world, and now it can include one of the most challenging and lucrative markets, China.
Riding on the evolving landscape of China's sports industry, the brand has become one of the most powerful foreign brands in China. All its success is not only attributed to the effort and passion of its team, but also to the man who has been at the helm of the brand for more than a decade in the region.
With 23 years of international general management experience across multiple industries and countries, adidas Greater China's managing director Colin Currie talks to Marketing about taking the 67-year-old brand to a new level.
How did you get into the industry?
I came to adidas in 2005 having previously headed Sony BMG in Malaysia. I began my career, however, in hospitality before going on to work in a number of marketing-related positions within the telecommunications, airline and financial services industries in several different countries, including Australia and Hong Kong. I think the variety of these experiences prepared me well for my eventual move to adidas. Looking back, my transition to the sporting industry represented a natural progression. I've always been very passionate about sport. I played a lot as a child and I've carried that with me into adulthood. Today, I take keeping fit very seriously and I work out several times a week, in addition to playing football whenever possible. I've also always hugely admired adidas and its unrivalled sporting heritage. It's a great honour to be doing what I'm doing now, competing to become China's best sports brand in such a vast and ever-changing market.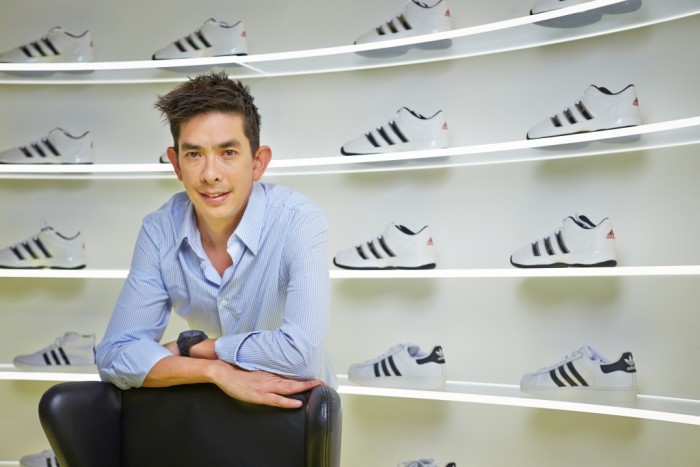 How would you describe your management style?
I think most people would say I'm tough, but fair. I expect a lot from myself and from the people who work for me. I've learnt over the years that the best way to get people to perform is to respect them, give them responsibility and to acknowledge their achievements. If I'm a demanding boss, that's because I really believe in the people who work for me. Adidas is a team effort. I'm privileged enough to be the leader of that team, but I'm very much a team player. Luckily, I'm surrounded by some incredibly smart people who all bring something special to the table. We work well together and there's a real sense of cohesion and unity of purpose at adidas that I've not encountered anywhere else before.
What's the best part about working in the sports industry?
I feel very privileged to work closely with some of the biggest names in the industry, people who have overcome huge obstacles to get where they are today. That kind of relentless energy tends to rub off on you. It's also been very rewarding to witness the transformative effect of sport first-hand. Our extensive involvement in grassroots football, for example, is helping to nurture the football talent of a generation of budding young players, in addition to helping China realise its ambitious goal of one day becoming a global football powerhouse. Running is another area where we're inspiring literally millions of people to make profound, long-lasting changes to their lives through initiatives like our sponsorship of major running events such as the Beijing Marathon and Shanghai Half Marathon, as well as our hugely popular adidas running Tribes that meet regularly up and down the country.
What's the most challenging part of your job?
This is a hugely competitive fast-paced industry – anywhere in the world, but nowhere more so than in China, a country as big as continental Europe with needs that are arguably just as diverse, if not more so. Every region in China is very different and constantly changing at breakneck speed. From the cooler drier reaches of the north to the hot tropical south, it's a country of diverse languages, cultures, incomes and ways of life – so it's only natural these differences play out in consumer behaviour. In such a dynamic market, it's vital to not only spot trends, but also be ahead of the curve, anticipating them before they take off. It's not always easy, but it's a challenge I relish.
What has been the proudest moment in your career?
Our proudest moments come when we see something we've given everything to finally bear fruit. For me and everyone else at adidas Greater China, 2015 was a fantastic year that represented the culmination of five years of really hard work, discipline and focus. When I took over as MD for Greater China in 2010, adidas was trailing behind its competitors in fourth position in the region. A carefully designed and meticulously executed five-year strategic plan known as Route 2015 Greater China helped us during this time to strengthen our position considerably in all key categories to become one of China's hottest and most iconic brands. We're now China's No.1 sports brand for women, and for our NEO and Originals sub-brands, we are the No.1 sports casual brand and No.1 Sport Style brand respectively. Now neck-to-neck with our closest competitor, I'm very proud of what we've achieved and extremely confident about adidas' future in the Greater China region.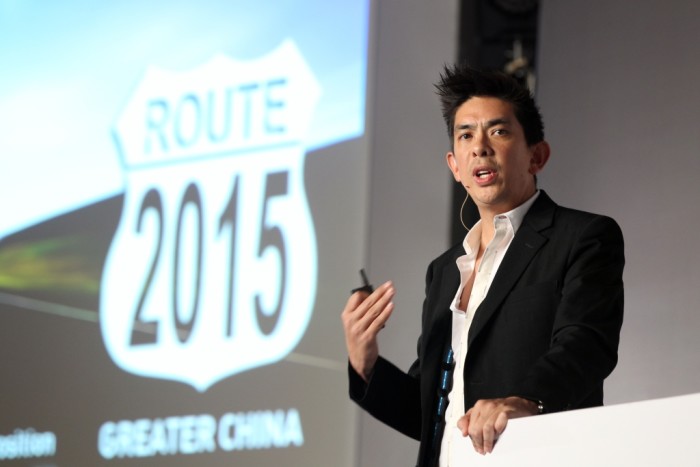 What keeps you inspired?
I think we're at a pivotal moment in China's history with record numbers of people discovering for themselves sports' undeniable power to transform lives and communities. Given China's size, whatever happens here is bound to also have profound far-reaching implications for the rest of the world. Nowhere can this be felt more than in football which is at the top of China's national agenda. It inspires me to be here at this historical moment, knowing the key role that adidas is playing in helping to nurture a love of sport in China.
What's the best thing about working and living in China?
China is changing on a scale and at a pace no-one has ever seen before. I really enjoy the energy here, which you can feel everywhere. It's a country with both an incredibly rich and unique past, and what I'm certain will be, an equally if not far more impressive future. Shanghai specifically is one of the world's greatest cities, a truly international metropolis in every sense. For this reason, it's one of six key influential cities we've identified worldwide and a city we are focusing intensely on when it comes to our strategy in the Greater China region.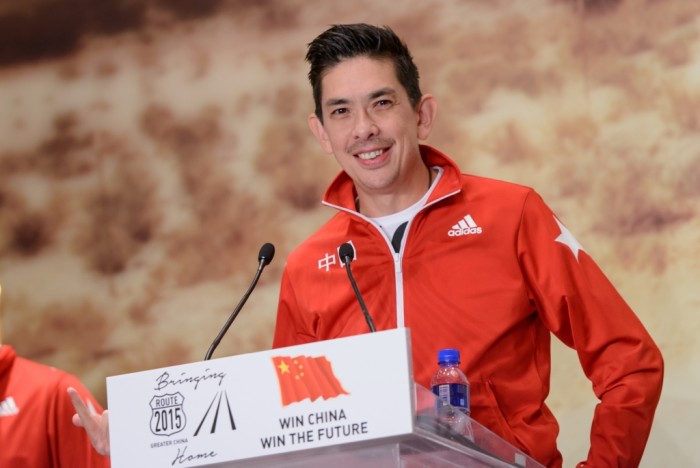 What is the biggest change you would like to see in the industry in 2016?
We've witnessed incredible growth with sport in China over the past few years and I'm absolutely certain this trend will continue. I'm very optimistic in particular about professional sport in China and I am excited about the immense amount of talent we're seeing emerge here, as well as the future generations that will eventually take their places. I want to see more and more people engage in sport at a higher level and more and more professional athletes achieve acknowledgement and success internationally. Running is one sport I'm consistently amazed by, mostly because of the sheer numbers we're seeing embrace it and taking it to the next level. Football is another phenomenal growth area which adidas, as the world's No.1 football brand, is strongly supporting through grassroots initiatives such as our collaboration with China's Ministry of Education.
How have digital and social media changed the sports industry?
Digital is undeniably the future, so it's something we're focusing more and more of our efforts on. Social media has accelerated the pace at which trends emerge and take hold, allowing people with a common passion for sport to connect where they would otherwise not have been able to do so. For adidas, it's also allowed us to massively enhance the way in which we reach out and engage with our consumers, helping us to respond to their needs far better than in the past. E-commerce has also been a huge boon and this is an area we will be continuing to develop over the coming years.
What's one piece of advice you would give to someone just starting out in the industry?
Everyone has his or her own strength, something they're naturally good at. Take the time to find out what yours is and, when you do, put everything you've got into developing that strength to the very best of your ability. Engage the help of a coach, someone who can guide and encourage you in your career development. But, above all, learn to work with others. Being a good team player is essential.