Oriental Daily has ran an anonymous full-page obituary ad today in what looks to be directed at Next Media chairman Jimmy Lai-Chee-Ying.
The last character of his name "Chee" is modified on the page as 黎志英 in written Chinese.
Background information suggested on the page, including his birthday and his hometown Shunde, coincide with Lai's background. It reads:
"Lai Chee Ying (黎志英), male, nicknamed Fat Lai, hometown Shunde, born 8 December 1948, has passed away on 7 August 2014 at age 65 from AIDS and multiple cancers. Since his family members are also suffering from illness, there will be no funeral for his death.
"Deepest condolences to all 'Two Media' staff."
The ad comes amid escalating political tension around the Occupy Central movement, particularly after the disclosure of Lai's secret donation to pan-democrats.
The advertiser remains unknown so far but it is understood that a full-page ad on Oriental Daily costs around HK$50,000 to HK$100,000 a day.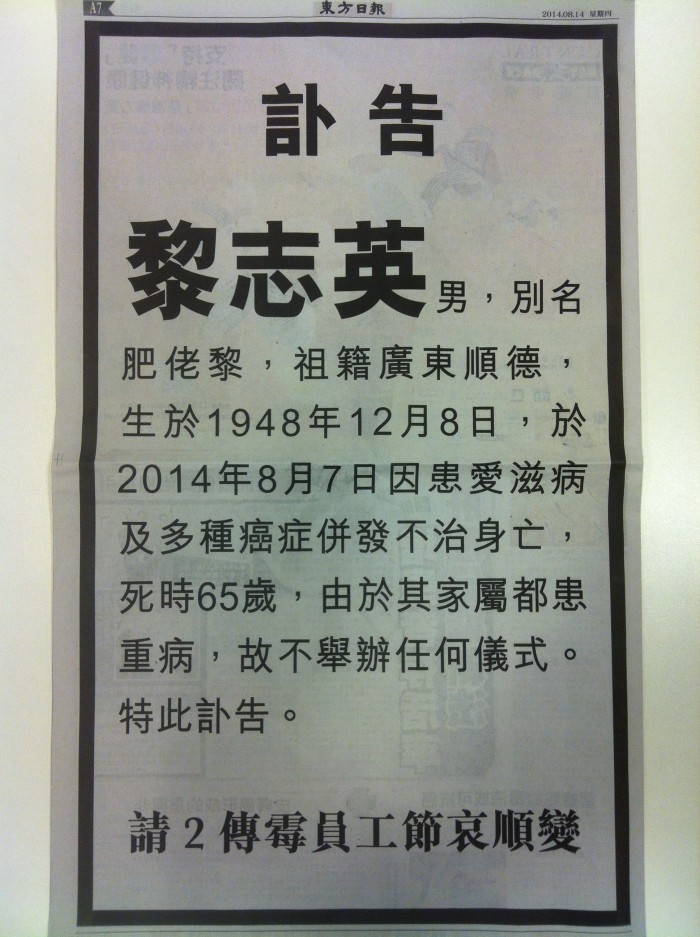 Lai has today recorded a video response to the obituary saying: "I don't look like I have AIDS."
"If you keep cursing me or my mother, it may eventually happens... Forgive me, I disappointed you."