Earlier this week, the Ministry of Foreign Affairs confirmed that the actual cost of the recent Trump-Kim summit was SG$16.3 million, a figure estimated to be SG$20 million previously. The biggest fraction of the cost was attributed to security.
Despite the high cost of the summit, data from R3 has found that immediate digital returns on investment to be approximately over 10-fold. This includes having an estimate of 2.36 billion views, and an earned media value of US$169 million, based on R3 calculations using digital analytics and insights tool. This is not including returns potentially reaped through increase tourism and business.
The study also found 8,370 pieces of content online about the Trump-Kim Summit had explicitly mentioned Singapore in the headline.
These pieces of content had also garnered over 2.3 million shares across social media platforms.
Singapore received news coverage across a diverse range of websites, most of which came from international news and media platforms. That being said,
Only 21% of news content published came from leading international publications.
Meanwhile, 79% of news content came from smaller news sites, news curation sites and blogs with a niche target audience. While these sites accounted for 9.6% of content exposure due to a smaller readership, these sites contributed to 34% of overall social media shares on the topic. R3 explained this was likely due to higher engagement from readers who are active in sharing on social.
"Such coverage is immensely valuable because it enables the Singapore brand to reach even the extremely fragmented communities, which are otherwise difficult to engage," the report added.
The value of each piece of content which mentions Singapore was regarded as a display ad impression and the dollar value of the content was calculated via the R3 benchmark CPM rates. This was categorised into three tiers, based on page views measured using SimilarWeb.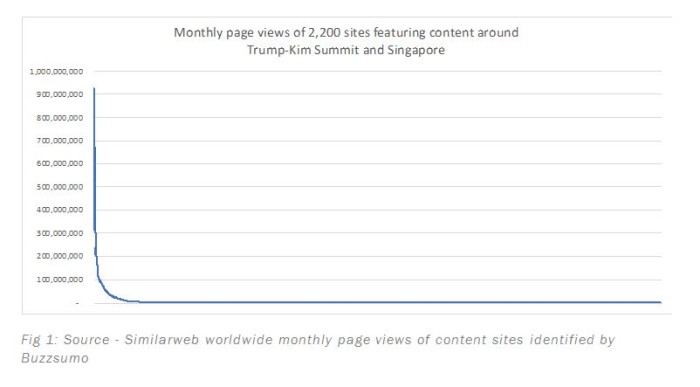 Searches for "Where is Singapore?" on the rise
As a result of the long tail coverage, interest in Singapore's geographical location saw a spike in terms of searches. Following US President Trump's announcement on 10 May 2018 confirming that the summit will be held in Singapore, Google searches for the phrase "Where is Singapore", saw a high surge since December 2014.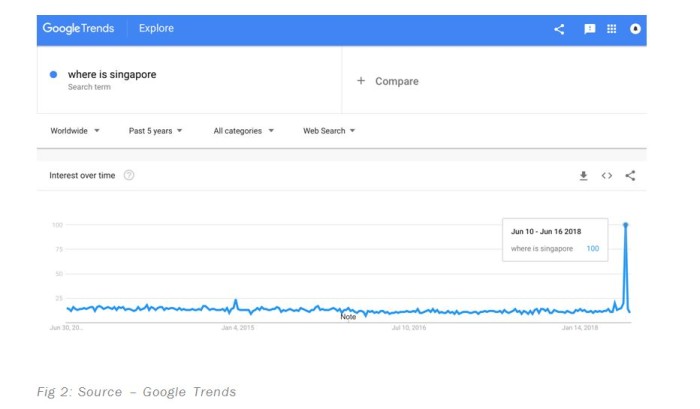 According to R3, 38,400 of those searches came from the United States alone that week. However, in the week of the actual summit, search volumes for the same term had risen 10-fold compared to the previous surge. The report added that this reached "unprecedented levels" in the history of Google Trends.
This spike is tangible proof of increased awareness about Singapore among the sections of the international community who were previously unexposed or underexposed to Singapore.
No other event in the past decade has caused such a huge surge of interest in Singapore.
Recent research from Meltwater also estimated around SG$767 million in exposure for Singapore. This was taking into account the advertising value equivalent figures from 12 May to 12 June 2018.
The event not only garnered attention for the nation, but also brands located in the country. This includes hotels and locations such as Sentosa, Shangri-La Hotel, Capella Singapore and St. Regis which gained news coverage as potential places for the summit to take place.
Brands were also quick to newsjack the situation, with companies such as IKEA and KFC, along with other F&B establishments running campaigns to commemorate the occasion. This saw the creation of special Trump-Kim themed menus items and promotions.
Read also: Trump-Kim summit shoves brand Singapore into the spotlight: What will the perks be?