Last month, Facebook-owned Instagram passed an important advertiser and user growth milestone with two million monthly active advertisers, up from one million advertisers in March of this year. According to TechCrunch, the number was driven largely by growth in small and medium-sized business.
While its growth seems impressive, a closer look at Facebook, which was reported to have five million advertisers in April 2017, would indicate that Instagram still has lots of room to grow.
Marketing talked to Instagram's head of business, Jim Squires, to learn how the social network could monetise more of its features in the future, as well as how marketers can leverage upcoming plans.
Q: Can you share the most up-to-date number of active users and advertisers in Asia, in particular Hong Kong?
Globally, there are 800 million active users on Instagram monthly [Editor's note: up 100 million since April 2017], and 500 million active users daily [Editor's note: up from 300 million daily users in August 2017]. To break that down, Hong Kong has 2 million active users monthly, Indonesia has 45 million and Japan has 20 million.
We don't break down the advertiser numbers, but we've seen huge growth in Asia. Indonesia has the highest number of adoption on business tools, and APAC is one of our biggest markets worldwide in terms of business tools adoption.
Q: How many of these users would actually purchase a product [in response to seeing an ad on Instagram]?
We are offering solutions for both branding purposes and for actually purchasing products, and we've seen Hong Kong users more centred on their own interests when using the app, whether it's about sports, travel or music. We have a global figure that 59% of Instagram users felt they were influenced by the app content when buying a car.
They are more into brands - one of the top three things users in Hong Kong want to see on Instagram are brands, and 50% of Hong Kong users have followed business accounts. That ranks higher than athletes, musicians and other public figures. This indicates potential in the local market from a business value.
Q: Does that mean campaigns on Instagram should pick a branding-focused narrative than a product-focused one?
There are different [answers] for different campaign objective and brands, and the best advise I would give is: test. Audio brand Beats, for example, tested the format by producing three videos for Stories in two different styles. One showcased different celebrities demonstrating a product feature, while the other two were more focused on the Beats brand.
After testing these different ad creative styles against one another, the team found that product-focused Stories, which also included clearer calls-to-action, scaled better than its lifestyle-focused Stories. Of course they further invested in the [former] format. At the end, the brand saw an overall 15% increase in click-through rate compared to Instagram link ads, a 29% increase in purchase lift, and a 11 times lift in traffic to website.
Q: How do you plan to make Instagram more conducive to marketing?
Right now we are very focused on Stories instead of Instagram. It was launched a little more than a year ago, and we already have 250 million people globally using it on a daily basis.
From a consumer side, we will introduce more creative tools, like face filters, to the users. From the business side, we continue to introduce marketing solutions that would help [marketers] reach new audiences, and deepen engagement.
We've introduced polling on Stories, which lets the users vote. It's not available to businesses yet, but you can see the potential there - that would further deepen the engagement. Potentially, polling will be available to business.
Potentially, polling (in Stories) will be available to business.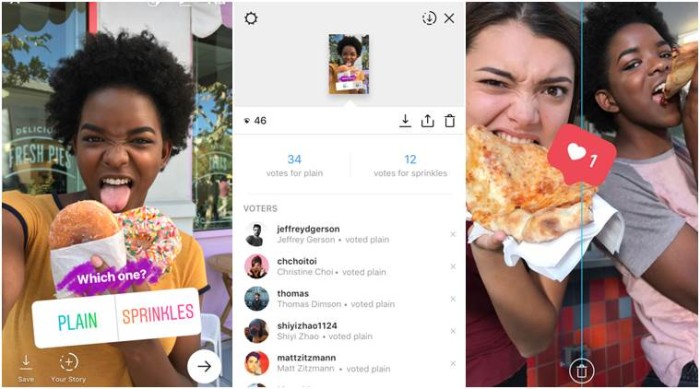 We always want to make sure consumers' experience of business content is as organic as the other ones. Six months ago we introduced advertising inside Stories - the ads show up in between stories from people. The stories are built on the same infrastructure as Facebook feed, which means all of the targeting and measurement capabilities that Facebook has been refining for over 10 years, and that brands are used to using with feed, are now available on Stories.
We see that more smaller business will post organically and large businesses will use more advanced tools like power tools or ads manager. The majority of our active advertisers are small businesses, so we've been building a community.
Q: Which industries are performing best on Instagram right now, and which are your biggest clients?
We see strong results across categories. There are the ones that you would think would do well, for example retail, fashion. We also see strong performance in finance and insurance. There's a US student loan startup called SoFi which has lots of success on the platform through a mobile-focused and highly targeted approach. They've seen a 39% increase in the number of pre-approved applications for student and personal loans.
We don't break out the specific categories, but entertainment, technology, consumer goods, E-commerce are some of the top categories that we have in the product.
Q: After introducing the sponsorship tag, do you have any plans on further tightening Instagram's sponsorship policies, i.e. will there be more initiatives like forced disclosure on sponsored posts by influencers?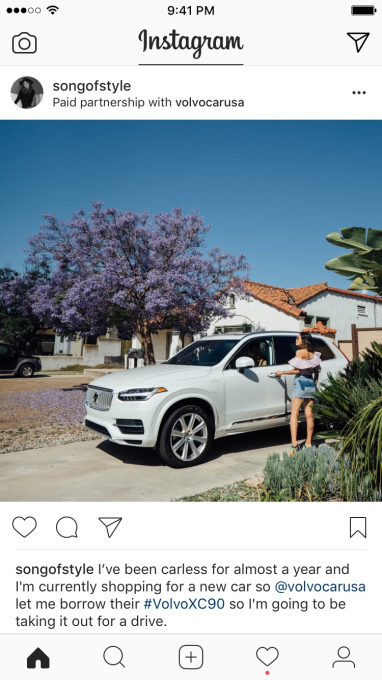 We are in the process of introducing the function. It's currently available in Hong Kong also for the top accounts, but we are rolling out and expanding it to all accounts.
There's more transparency to the people, and more insights to the businesses, and they are perceiving it well.
Q: How does Instagram plan to increase data transparency for advertisers?
Measurement is a really important component. On deeper objectives like message association and message recall, we work with third parties like Nielsen to do third party assessment with surveys to understand the numbers.
Q: Any dos and don'ts for marketers that are using Instagram?
Really use those first few seconds to attract the consumers. Have content that is optimised for mobile.
Make sure your site is mobile-optimised.
Be authentic.