China is now entering a "new normal" phrase where CEOs have to work hard to find growth amid domestic economic rebalancing and global disruptive trends, said PwC.
PwC has released its 18th Annual Global CEO Survey which polled 1,322 CEOs based in 77 countries. Of these, 136 from mainland China were surveyed from October through December 2014.
In the China summary of PwC's 18th Global CEO Survey Dealing with disruption – Thriving in China's "new normal", the firm found that China CEOs have experienced a fall in confidence as only 36% of them are "very confident" of their company's growth prospects over the next 12 months, 11% less than 2014.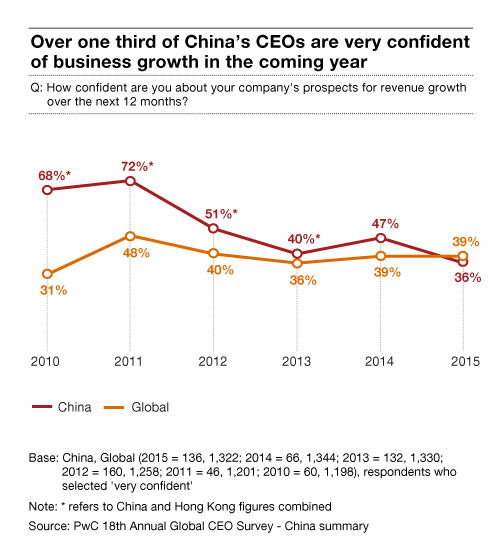 CEOs from China, however, are still optimistic to China's economy.
Almost 71% respondents said they see more growth opportunities for their company now than three years ago. And 57% are also planning to increase headcount in the next 12 months.
PwC China Beijing senior partner David Wu believed that is right to recognise the risks of the "new normal" and to plan and act accordingly.
He said that China CEOs will focus on "driving business growth through building diversified partnerships and continuing to invest in digital technology and talent".
Here are the views of China's CEOs on growth, deals, partnerships, disruptions, technology and talent.