Prudential Assurance Malaysia Berhad (PAMB) recently launched an iPad application - the PRUproduct app - that is aimed at enhancing the efficiency of its agency force and heightening the general awareness of its consumers.
Taking on an educational slant, the feature rich application allows its agents to educate themselves on-the-go through a myriad learning modules that are enriched with images and simplified descriptions.
[caption id="attachment_65061" align="aligncenter" width="693"]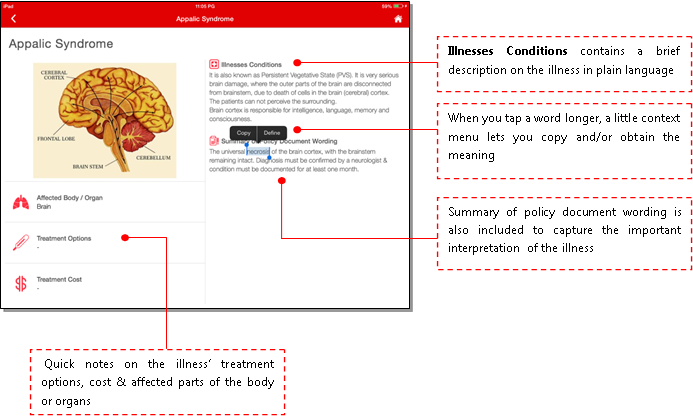 A look at the interface: a brief description of a particular illness with possible treatment costs, options and a summary of policy document wording.[/caption]
Rather than committing to a product without understanding it throughly, consumers can now use the app to understand products beforehand such as their key features, risks and claims scenario.
So what does PAMB hope to accomplish through this new application?
Philip Seah, Chief Executive Officer of PAMB, said that: "As a company, we place high importance on the development of our agents. Besides providing them with opportunities for continuous learning, we also equip them with the technology and tools to ensure that they are able to meet the demands of increasingly savvy customers.
Having been around for the last 90 years, Seah conveyed his wish for consumers  of Prudential to have the "best advice possible to be assured of financial freedom and peace of mind" through this app.