Programmatic trading is a phenomenon that has irrevocably changed the way the ad industry operates.
Adoption rates continue to climb year on year, with IDC predicting worldwide programmatic spend will reach US$20.8 billion in the year 2017, increasing its share of online and mobile display advertising spend to 26 percent.
Most proactive advertisers are now buying ad space programmatically through open marketplaces, in both the display and video worlds. It's private marketplaces, however, that are set to become the new engine of growth in the programmatic space, as both publishers and advertisers seek to supplement open marketplace buying with the additional benefits of a more targeted approach.
Used in parallel, the combination of open and private marketplaces can supercharge programmatic buying towards new levels of efficiency and effectiveness for advertisers.
[More on this topic will be discussed at Marketing magazine's Performance Marketing conference on 8 September in Singapore]
The blended family of programmatic buying
Programmatic trading can be executed in a number of ways, a fact the market often overlooks. Real-time bidding on the open marketplace seems to be the default setting, but there are other ways of employing programmatic to help maximise yield, including private marketplaces and programmatic direct. The former is expected to explode in popularity in 2015, to the point where it will account for 50 percent of programmatic video ad sales across the Asian region by the end of the year.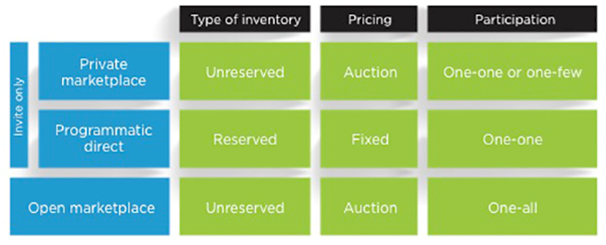 With programmatic disintermediating relationships between buyer and seller, private marketplaces offer the best of both worlds. Publishers invite a handful of select advertisers to bid for predetermined inventory, establishing closer relationships with advertising partners, while incorporating programmatic data to allow both sides to more efficiently transact and fulfill each deal.
With a closer working relationship, both publishers and advertisers get more transparency when it comes to inventory availability and pricing. The system enables more traditional media buyers, many of whom have reservations regarding programmatic trading, to test the waters.
Pick up a VIP pass
To truly optimise ad spend, advertisers need a multi-tiered approach combining the best of the different buying styles in the programmatic family. A mix of deal types enables the advertiser to strike a balance between targeted, premium ad space and inventory chosen to achieve reach and/ or scale.
There are a number of tactics advertisers can employ to gain access to private marketplaces to supplement their open marketplace buying strategies.
Stick with a winner. The natural path for setting up a private marketplace is setting up relationships with frequently used publishers. Have your trading desk look at what you've been buying and from which publishers over time to understand buying trends. Preferred publishers can then be approached directly with the request to set up a private marketplace.
Leverage your relationships. Approaching the opportunity from the other angle by asking for publishers who have expressed interested in making inventory available via private marketplace deals is another option. SpotXchange can help with introductions to publishers on behalf of advertisers or DSPs to set up such deals.
Publishers like certainty. Setting a fixed rate with a publisher (guaranteeing you will bid on available impressions put into a private marketplace, without being guaranteed of winning the bid) can allow you to buy at a price that will deliver greater value in the long run – another way of forging direct relationships.
In 2015 we have already seen increasing demand for private marketplaces. As advertisers become more cognisant of the various ways to buy, and the benefits of adopting a blended approach, we expect that demand to rise even higher.
The writer is Sujen Selva, commercial director, Asia, SpotXchange.
Performance marketing will be discussed at Marketing magazine's inaugural Performance Marketing conference on 8 September in Singapore.
To register, please click here or contact Bernadine Reyla at bernadiner@marketing-interactive.com or call +65 6423 0329, +65 9830 4454
If you would like to learn more about sponsorship opportunities, contact Soren Beaulieu at sorenb@marketing-interactive.com or call +65 6423 0329