Behind any successful campaign is a happy and hardworking client and agency partner. This is undeniable.
But finding this perfect partner right from day one is close to impossible. Like most relationships, the one between a client and an agency needs work too. While no one wants a tumultuous relationship, an agency that dares to say no to a client and offer something better is often more welcome than a yes-man.
And while we all know the truth of the relationship between the two, a recent report released by RSW/US on the agency and marketer perspective on the business of advertising and marketing suggested that the two are now in more troubled waters than ever.
In the report, marketers cited common issues being "strategic deficiency" and "widespread inexperience".  The most common concern face by markets include the demand to change a way an agency operates and partners with their clients. There has been a perceived reluctance of agencies to  adapt their business model to the new environment, the report suggests.
While marketer concerns reveal a perceived need for the agency business model to  change, additional specific areas that worry them include strategic strength, the ability to  keep in front of technology, and "one-size-fits-all" solutions.
The report added that marketers are usually on the look out for a new agency when they feel their existing  agency  is  less proactive and offer creative that has become "cookie-cutter" or stale.
Comments from marketers include:
Inability to provide good, long-term strategic thinking.
Decreasing staff and attention to client, increasing work load and thus less real attention and strategy.
Lack of technical capability impacting ability to deliver.
Agencies still trying to become digital experts, keeping up with technology, measurement and analytics.
Faking customisation and repeat plays that lack authenticity.
Marketers  have great need for a committed strategic partner in their agency. Agencies that are anxious about their talents and services becoming "commoditised" can avoid that perception by approaching their clients' business as a strategic partner rather than  with a  vendor mentality.
Agencies can keep the relationship fresh by making every day feel like the first day of the engagement. Bring enthusiasm, new ideas, insights and value to your clients with each conversation. Show that enthusiasm by listening to them too! Marketers experience new challenges, stresses –and successes.
The decreasing staff count on the agency side and increasing work load also seemed to be a concern for marketers. This lead to agencies providing clients less attention. Thus, clearly, marketers are in an urgent need for a committed strategic partner in their agency.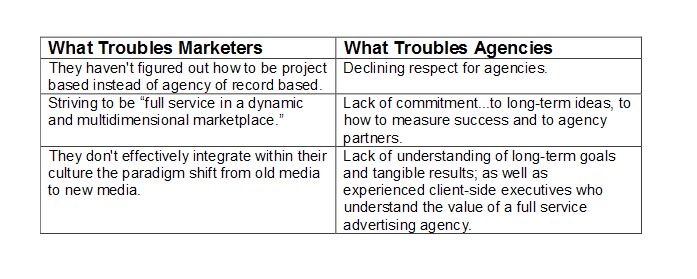 And its not as though agencies were completely happy with their client side partners either. The most significant concern expressed by the agencies is the growing phenomenon of addition and expansion of in-house agencies. In addition to this, agencies also seemed "frustrated" by what they see as deficiency in strategy among their marketing counterparts, "shiny object syndrome" where they were looking for short term results rather than prioritising long term goals.
"Marketing executives' focus on short term success instead of focussing on long term goals is was also a concern expressed by agencies.  Also, too much focus on tactics rather than having a well articulated and insightful strategy. They put more emphasis on short term results at the expense of long term brand building," said the report.
They added:
Marketers are concerned with chasing cool new gadgets such as VR, that "have no proven ROI" and are running to the latest shiny toy and running away from proven marketing vehicles.
Also, the budgets are being scrutinised to the penny, and often reactionary decision based on short term results, instead of taking the long view, and doing longer term cohesive, patient marketing plans.
Agencies also said clients had a paralysed state of decision making. This is especially in the quest for "big data" and questions about what to do with it. The study said, "Marketers are becoming paralysed and forgetting the power of insightful and inspiring story telling.
The study also added that agencies need to think and act differently than they have in the past. Gone are the days of lots of AORs and effortless symbiotic relationships. As such agencies need to be proactive and invest to bring in new ideas, better insights, increased use of data resources to facilitate decision making, broader views of all that is possible on the technology front.