Pacific Place has launched its new brand campaign with a mirrored installation in Garden Court which will be displayed from today until 27 August, portraying Pacific Place as "The Place" to elevate everyday moments and unique experiences.
The brand refresh is the culmination of Pacific Place's strategy over recent years to evolve into the ultimate lifestyle destination in the city, and engage a diverse and broad customer base. With the mall offering 140+ coveted brands and boutique dining options, "The Place" represents a lifestyle worth celebrating.
As part of the brand refresh, Pacific Place has unveiled a mirrored and colourful  installation in Garden Court. The interior of the artwork also holds an unexpected surprise, with an intimate infinity garden nestled within, handcrafted by local floral artist Kirk Cheng.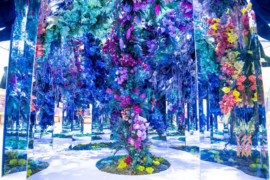 Pacific Place stated that more events will follow, such as the Hong Kong debut of the Victoria and Albert Museum's renowned "Shoes: Pleasure and Pain" exhibition in September.
The mall's above loyalty programme also just rang in its first anniversary. With exclusive benefits including the recent Audi on Demand partnership, a first-of-its-kind offering which provides premium mobility service at the touch of a button, Pacific Place continues to engage and reward above loyalty members.
Aiming to provide elevated lifestyle and seamless experience for the customers, Pacific Place has revamped its website and in-mall directories earlier in the year. The website features wishlists and social sharing function for in-store items, and inventory updates.
Meanwhile its new online magazine – The Style Sheet – offers content from and for those in the know. By extending its offerings through digital channels, Pacific Place aims to present engaging experiences at every touch point.