Last year Singapore saw strong GDP growth of 3.6%. The services sector, which constitutes two-thirds of the economy saw improved growth of 2.8% from 1.6% the previous year. This is largely supported by finance and insurance, wholesale and retail trade, transportation and storage.
According to a report by Kelly Services, growth in 2018 is expected to be slightly above the middle of the forecast range of 1.5 to 3.5%, according to official estimates. Despite the positive outlook, technology disruption continues to impact all sectors, affecting different sets of workers differently.
Some groups will benefit as demand for their skills, in areas such as data analysis and digital capabilities rise, while others may be badly affected, as their jobs become increasingly redundant as their industries transform. They may need to reskill, upskill, or undergo a professional conversion programme to find new horizons, said the study.
For sales and marketing roles, with many channels now to carry their messages, marketers need to consider how to direct their marketing spend for best results. An accompanying trend now for marketers is to turn marketing efforts into revenue generating businesses, rather than remaining a cost centre.
Digital channels such as apps, search, web and mobile have grown significantly in importance, while traditional channels such as print, outdoor, TV and radio remain effective to reach mass audiences.
Social media has become an important component in the digital space, with consumers taking to social networks to praise companies and products they like and slam the ones deemed to have fallen short. Online reviews can make or break a hospitality establishment, while a nasty video gone viral can damage a company's reputation.
Marketers more than ever need to understand who their target audiences are, leverage on big data to more effectively reach them, and develop creative material to capture attention in a noisy world. Retailers will have to continue to meet their customers wherever they want to shop, be it in a brick-and-mortar shop or through the web. With price and product comparisons easily available online, sales specialists need to be on top of the latest trends and deliver good customer service to keep people coming back.
One of the important driver of sales in Singapore is Tourism. Growth in this sector remains healthy between 2016 to 2017. International visitor arrivals grew 8% in 2016 to 16.4 million and tourism receipts increased 13% to SG$24.6 billion, both record highs. The momentum continued in the first half of 2017, with arrivals growing 4% to 8.5 million and tourism receipts increasing 10% to SG$12.7 billion.
Meanwhile, frontline staff from the hospitality, retail, restaurant and tourism sectors are the face of their organisations. With increasing demand for high service standards to meet growing expectations, customer service is critical to a broad span of industries.
In the high-tech space, the roles of customer service have evolved, with companies now tapping on technology to better service customers. The rise of mobile and online sales channels has seen customer service shift towards providing help through digital means, evident in industries as diverse as banking and airlines. Automation in the form of bots and automated replies has complemented manual handling of emails and calls, boosting the productivity of call-centre and customer-support workers.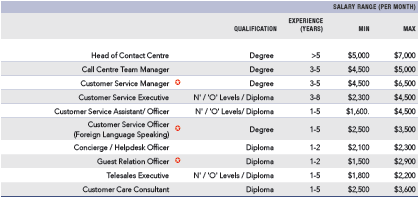 Yet, demand for customer service personnel remains high, with the hotel, food and beverage, and retail industry facing a manpower crunch and tighter foreign manpower restrictions. 49 per cent of non-PMET vacancies for service and sales workers went unfilled for at least six months in 2017, according to the Ministry of Manpower. Such vacancies were for security guards, receptionists, customer service and information clerks, shop sales assistants, material and freight handlers, waiters and cleaners. By sectors, these vacancies were in administrative and support services, food and beverage, retail and services.
Overall, unemployment continues to decline, with the latest estimates of the seasonally adjusted unemployment rate at 2.1% in December 2017. Salaries have risen, with the median rising 5.9% last year to SG$4,050 in June 2017. Recent university graduates also enjoyed higher starting salaries, with a median of SG$3,400, up SG$100 from 2016, with fresh graduates in business, economics and computing getting the highest pay jumps. About 88.9% of university graduates found jobs within six months of their final examinations.
(Photo courtesy: Kelly Services 2018 Salary Guide)