The consumption of media content in Southeast Asia has shifted radically in recent years. As ownership of connected devices surges across the region, consumers are taking the driving seat when it comes to their consumption of media.
However, according to a report released by Nielsen, in collaboration with video advertising platforms Videology, called The Nielsen South Asia Cross-Platform Report, Singaporeans do not seem to be engaging with video content as rapidly.
Viewing online video content is a common pastime for digital consumers in Southeast Asia and the majority watch online videos at least weekly. Viewing in the region is highest in Vietnam (91% report watching weekly), while Singapore, which has the region's highest internet penetration, recorded the least amount of online video consumption among those consumers who are online (56% report watching weekly), said the report. (See Chart 4).
Take a look: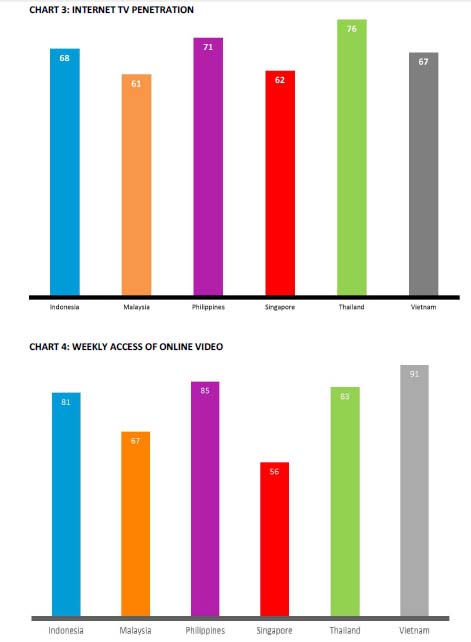 Consumers across the region recognise and understand that the content they consume comes at a price. Majority of those surveyed indicate that they expect to either pay for online video content or be exposed to advertising while viewing.
Most Southeast Asians say they prefer ad-based models, where they have free access to online video content that includes advertising, as opposed to pay-per-view models with limited or no advertising. This is with the exception of Indonesia where just 44% of digital consumers say they prefer ad-supported content.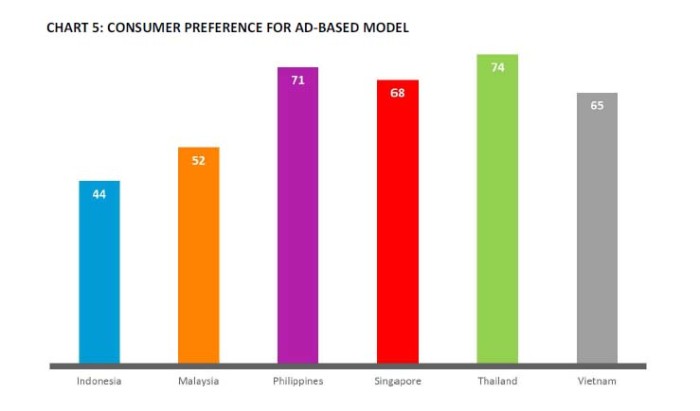 Overall, online video advertising is proving an effective means of stimulating product search and purchase. About 80% of Southeast Asian digital consumers have been motivated to search for an item seen within online video advertising. Meanwhile 62% have made a purchase as a result of seeing an online video ad.
"The expanding popularity of digital video consumption and early indicators around the effectiveness of online video advertising has brought about a paradigm shift which is irreversibly reshaping the media landscape," said Nancy Jaffe, Nielsen's Cross-Platform Leader in Southeast Asia said.
Byron Munson, Videology's regional director of APAC. "The growth of device ownership across Southeast Asia is providing marketers with unparalleled opportunities to engage with audiences. Digital video is an extremely powerful tool for marketers; providing all the benefits of sight, sound and motion, coupled with one to one audience targeting, highly detailed reporting and ROI delivery."
Increased connectivity supporting video
Other factors that support video advertisements and rise of consumption of it include the increasing connectivity.
Nearly 80% of digital consumers in Southeast Asia own a smartphone and half of digitally-engaged households in the region (50%) own a tablet. Southeast Asian consumers on average spend just over 22 hours online per week. Consumers in the Philippines are the most digitally active, averaging 26hours 42minutes per week, followed by Singaporeans at 25hours 12minutes.
Along with increasing connected device ownership and time spent online, consumers' media consumption habits are shifting; around 90% commonly engage with two screens simultaneously, and as many as 80% engage with three screens simultaneously.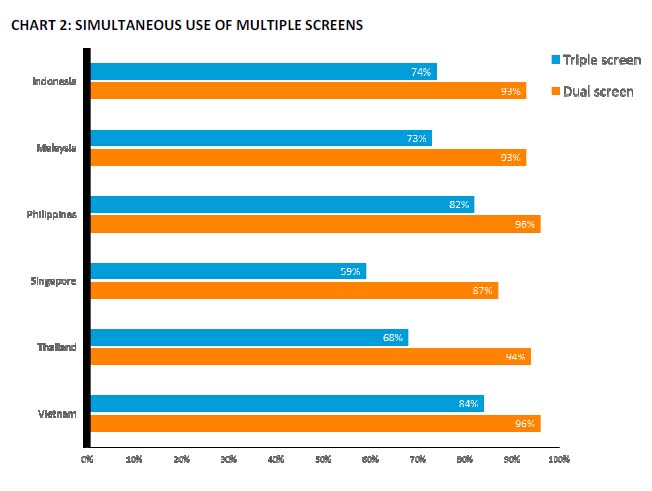 Demand and control
There is also a demand for choice and control.
"The rapid up-take of connected devices, especially smartphones and tablets, is instrumental in media consumption shifting beyond traditional media formats such as broadcast and cable TV, and also beyond traditional time parts," Jaffe said.
Jaffe added that for media owners, it is becoming increasingly important to understand consumers' viewing habits in order to deliver the right content at the right time to build brand awareness, affinity and loyalty.
Broadcast TV remains the most-used platform for delivery of rich video content, however, alternative platforms are emerging. More than six in 10 digital consumers in Southeast Asia report watching TV content and movies via online sources such as video-on-demand, with the penetration of internet TV highest in Thailand (76%) and the Philippines (71%). YouTube is also increasingly acknowledged as a 'TV channel' or platform.
The Nielsen South Asia Cross-Platform Report series, sponsored by Videology, provides an in-depth look at the changing media landscape in some of the most dynamic markets in rising Asia, including Indonesia, Malaysia, Singapore, Thailand, Philippines, Vietnam and India. In all markets, a sample of 1,000 frequent online users (used the internet in the past month) aged 16 years and above was captured using an online survey methodology. Responses were collected during April and May 2014.