Valentine's Day might have started out as a festival dedicated to the power of love, but today it's big business.
To give an idea of how big and how people splurge on Valentine's Day, SAP has created an infographic to visualise the dynamics of various markets across Asia and how they measure up against one another in terms of spending and lifestyle habits.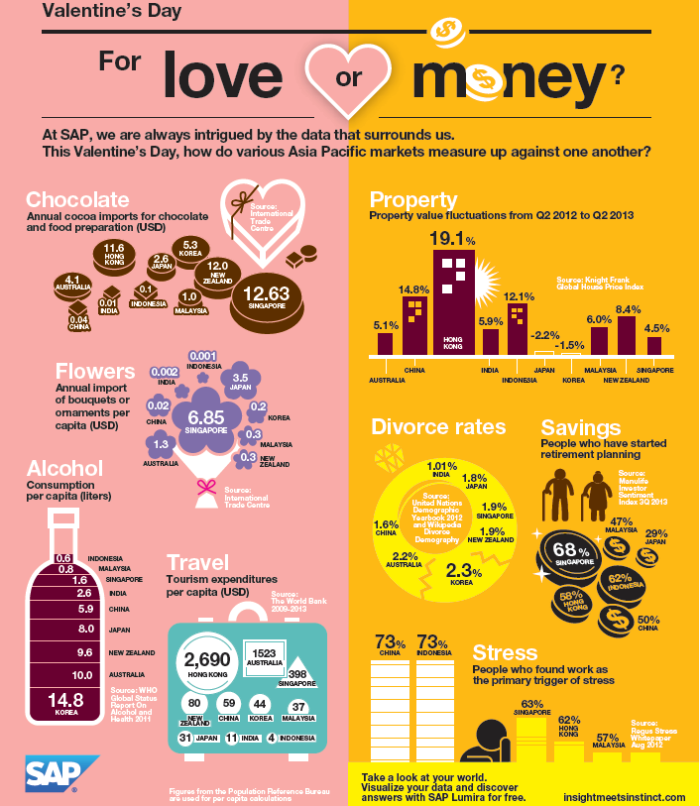 The info graphic shows Hong Kong residents are the biggest spenders on tourism per capita ahead of 9 other markets.
Meanwhile, Singapore emerges as the biggest importer of flowers in comparison to 8 other markets, topping the list with an average spend of US$6.85 of flower imports per capita.
It also tops the list again for the highest cocoa imports for chocolate and food preparations, followed by New Zealand and Hong Kong, with an average spend of US$12.60 per capita.
Interestingly, SAP customers produce 70% of the world's chocolate and distribute more than 71% of the world's food.