While generally SEA consumer confidence remains strong in Q4 2014, with four Southeast Asian markets ranking in the top 10 most optimistic countries globally, according to the latest Consumer Confidence Index released by Nielsen, Malaysians do not seem as optimistic.
Vishal Bali, managing director of Nielsen's consumerisation practice in Southeast Asia, North Asia and Pacific said that "the only exception is Malaysia which recorded the lowest confidence level since Q2 2009."
This is likely due to consumers feeling the pressure of the introduction of GST later this year and uncertainty around any potentially impact on the price of goods and the cost of living. Consumer confidence in Malaysia stood at 89 points, which was down 10%  points on Q3, the largest quarter-on-quarter decline globally and seven points below the global average of 96 points.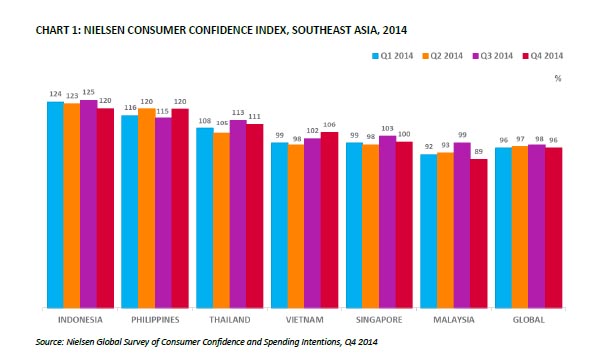 Economic conditions remain a key concern for consumers, with close to one in five consumers in the region (18%) citing the economy as their biggest concern over the next six month. Consumers in Thailand (49%) and Malaysia (38%) are the most concerned globally, compared to 25% of consumers globally.
The Nielsen survey also revealed that four out of six markets (Thailand, Malaysia, Indonesia and Vietnam) in the region think their country is going through an economic recession. At least eight in 10 consumers in Thailand (88%), Vietnam (86%), Malaysia (85%), Indonesia (80%) and Philippines (80%) have adjusted their spending habits over the past 12 months in a bid to curb household spending.
More than six in 10 consumers in Malaysia (65%) and Philippines (62%) are spending less on new clothing, while 60% of Vietnamese and 56% of Thais and Malaysians have cut down on out-of-home entertainment in their effort to reduce household expenses.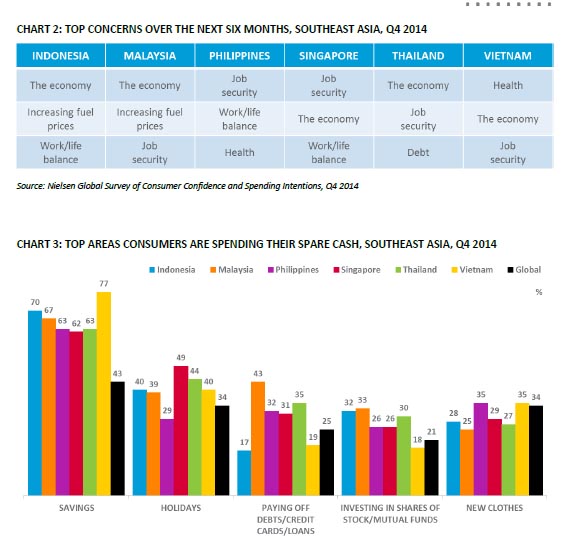 "While consumer confidence is relatively stable across Southeast Asia, consumers are expressing concern around areas such as job security and economic health, and as a result they are cautious with their spending," said Bali.
Nonetheless, consumers in Indonesia remain the second most confident globally, with an index score of 120 in Q4 2014. Philippines tied in second place with a consumer confidence score of 120 points. Thailand came in fifth with an index score of 111. Consumer confidence levels in Vietnam and Singapore also remain relative strong.
The Nielsen Global Survey of Consumer Confidence and Spending Intentions was conducted November 10-28, 2014 and polled more than 30,000 online consumers in 60 countries throughout Asia-Pacific, Europe, Latin America, the Middle East/Africa and North America.