Media company Next Digital has announced that it has accepted an indicative offer from W brothers investment, which wholly-owned by Metro Daily's former owner Kenneth Wee, for HK$500 million, to sell Next Magazine, Sudden Weekly, Face, ME! and Next+One in both Hong Kong and Taiwan.
According to documents from The Stock Exchange of Hong Kong Limited, W brothers investment is wholly-owned by Hong Kong businessman Kenny Wee.
The indicated valuation for the magazine businesses under the possible disposal is approximately HK$500,000,000, comprising HK$320,000,000 payable to the company and HK$180,000,000 to be injected into the magazine businesses under the possible disposal.
Meanwhile, Wee has paid a sum of HK$10,000,000 earnest money to Next Digital.
Wee used to own free newspaper Metro Daily but sold it to an unnamed Hong Kong-based financial corporation for HK$400 million earlier this month. He told Mingpao yesterday that he has acquired "another larger-scale media company", and will look to buy another media company to develop in the Hong Kong, Taiwan and Japan markets.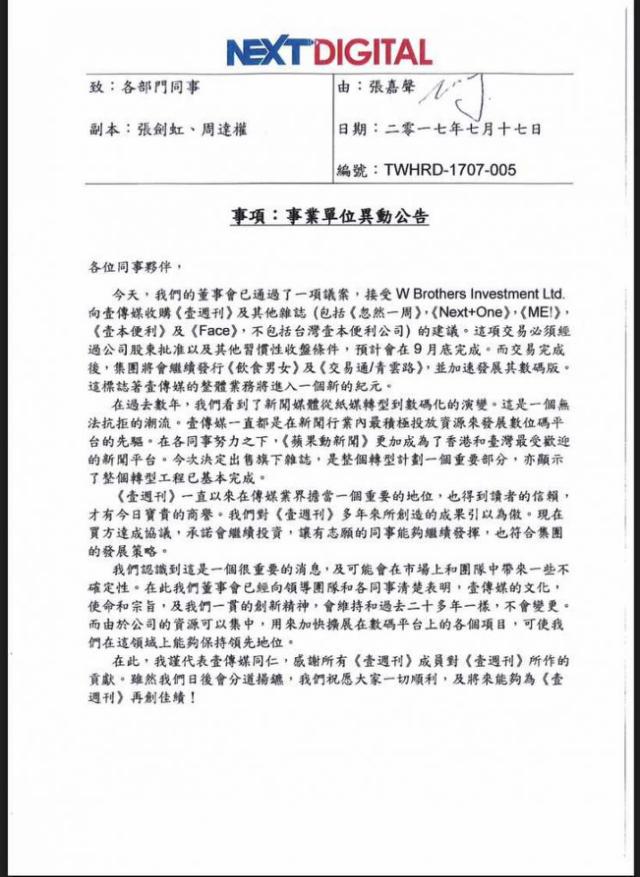 In a staff letter, Next Digital said the transaction will be complete in September, and that the company will continue to publish JF Digital and Eat and Travel Weekly.
However, staff arrangements are yet to be announced, according to Cheung Kim Hung (張劍虹), the editor of Next Plus and associate publisher of Apple Daily. "We'll have to wait until our CEO has finished the discussion to learn more about the deal," he said.
Quoting Jimmy Lai, the founder of Next Digital, Next Digital's chief executive Cassian Cheung told Apple Daily that "Lai is sad, but what's going to happen will happen, so he said yes."
Next Digital has had its shares halted on the Main Board of The Stock Exchange of Hong Kong Limited since 9:00 am this morning (17 July 2017) ahead of "an announcement in relation to a major transaction".
Read more: Metro Daily up for sale for HK$400 million, Next Digital loss deepens to $394 million on back of weak ad sales