This could be a happy problem for McDonald's Malaysia. Recently, the restaurant apologised to its consumers on a Facebook post, for running out of its well-marketed spicy Ayam Goreng (fried chicken).
The food chain stated, that due to "overwhelming demand", the restaurant is temporarily out of stock from 3 to 6 April, 2017.
Needless to say, netizens were not pleased with this announcement. The post went viral with angry consumers mouthing their displeasure on the social media platform.
While a few consumers were left angry, a bunch of curious customers questioned the sudden high demand for a food item which has been on the menu for a while. A few even labelled this as a marketing stunt to drive more demand, and clearly the unavailability of the product has left the consumers craving for more.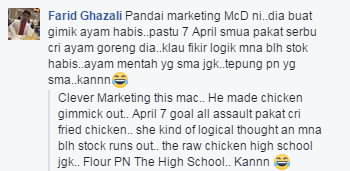 While A+M can not really comment for sure if this was a marketing stunt, we have reached out to McD's for a statement on the matter.
What we do know for sure, is that the F&B chain did recently release a video to promote the "upgraded" Ayam Goreng to cater to fans' request and demand for the "perfect fried chicken".
https://youtu.be/QjrXt-jvWaw
All I can say is (despite being vegetarian), even if this Ayam Goreng promotion is a marketing stunt, I'm lovin' it.