To celebrate its 150th anniversary, global food and beverage giant Nestlé has teamed up with Alibaba to kick off a six-month joint campaign in a bid to capitalise on Alibaba's online marketplaces and media platforms.
The Swiss company has kicked off the six-month campaign by launching 67 products on Tmall.com that have never been available in China before, including Nido milk powder from the Netherlands, Nestlé Damak chocolate from Turkey, Nescafé Gold from France, and Nestlé and Wyeth infant nutrition products from Switzerland, the U.K. and Germany. A three-day "super brand day" promotion features discounts on a total of 154 products from 30 Nestlé brands.
Nestle's growth had been slowing in the past few years in China, as the company said it has not reacted quickly enough to trends like ecommerce and healthier eating.
Other marketing activities Nestlé has planned in the months ahead will showcase its brands to Chinese customers countrywide via what Alibaba calls its "ecommerce media ecosystem," a growing digital marketing network encompassing social, mobile and web-based media outlets.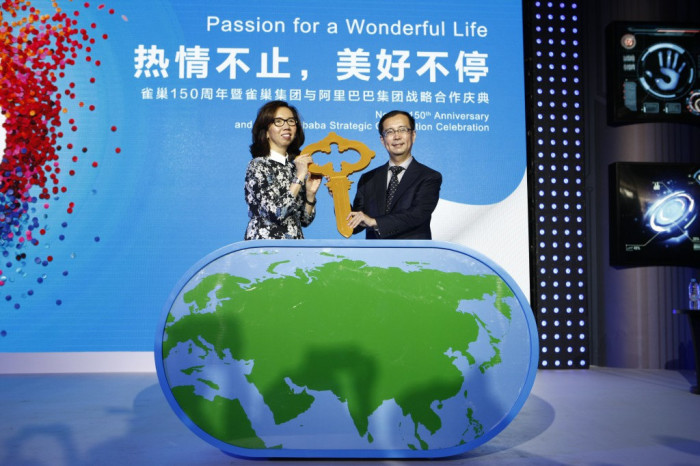 For example, Nestlé marketing will be featured on video programmes on Alibaba's Youku Tudou video streaming site. The campaign includes a Nestlé video that can be viewed on virtual reality headsets, marking the first time Youku Tudou has worked with a brand partner on a virtual reality campaign in China.
"There is no better way to celebrate 150 years of good food, good life than to create an opportunity for everyone in China to share our passion for nutrition, health and wellness," said Wan Ling Martello, executive vice president of Nestlé's Zone Asia, Oceania and sub-Saharan Africa. "And there is no better place than China to start the story of the next 150 years. Consumers here are very discerning and adapting to technology faster than almost anywhere else in the world."
"Alibaba is proud to enable digital transformation for a world-class company like Nestlé in China. Our unique ecosystem of integrated ecommerce and digital media powered by big data provides unprecedented capability to merchants to engage in brand-building and customer relationship management that will boost their overall business," said Daniel Zhang, CEO Alibaba Group.