Hong Kong digital music service MOOV has launched its "Beat Runner: Running Music", which featured on Apple Watch Series 3, making it the world's first for music app that integrates running data and music. It is available on Apple's App Store now.
The two-in-one feature uses the latest technology to integrate data from Apple HealthKit API (also known as Apple Health App), and displays the users' heartbeat and running data while playing music that matches the users' workout goals.
MOOV is the only music app which can solely be used on Apple Watch Series 3 offering the feature of playing music and running simultaneously. Users do not need to connect to iPhone and download songs in advance.
Helen Sou, senior vice president, digital media of PCCW Media Group, said, "We are so excited to launch this world's first technology in Hong Kong. At MOOV, we are committed to innovation. We looked carefully at the limitations of existing music and fitness apps, and developed a one-stop solution that allows our users to unlock their full workout potential and enjoy performance-enhancing music with no interruptions."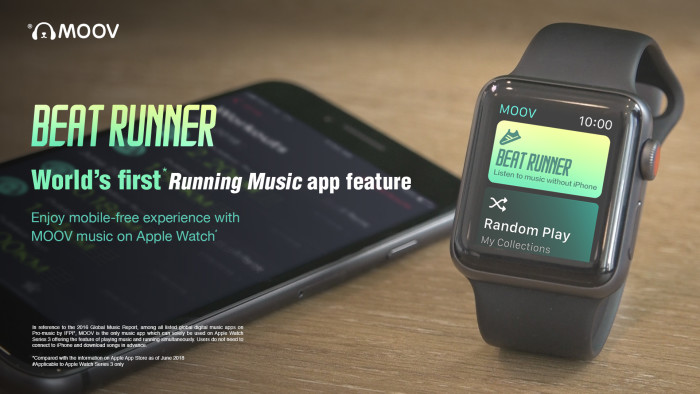 Without the need to scroll through the phone, pre-download music, or click through different apps, MOOV users are all set to a heart-pumping soundtrack of inspirational tunes from the Apple Watch Series 3, offering the users a phone-free running experience.
Listening to the right music while you exercise can fuel motivation, build stamina and improve your running technique by encouraging the correct pace.
MOOV is dedicated to harnessing the power of music to improve users' well-being. In addition to "Beat Runner", MOOV also offers a "Therapeutic Music Library"# with soothing tunes and Cantonese audio-inductions prepared by 7 registered music therapists. These playlists are suitable for de-stressing, fetal development and childhood learning development.