Some 59% of APAC marketers view mobile as a very effective marketing channel, up from 39% in 2015, according to Warc and Mobile Marketing Association's latest report.
However, the report, State of the Industry: Mobile Marketing in APAC found that 60% of the responding marketers are currently attributing less than 10% of their budget to mobile.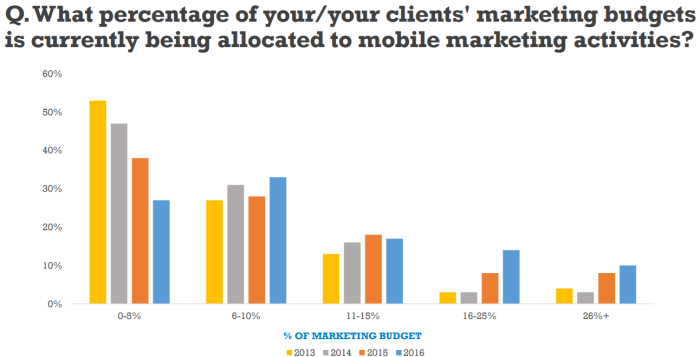 The majority of respondents believe their budgets will rise in both the short- and mid-term, with 37% expecting to see growth between 25% and 50%.
Meanwhile, more than half of agency respondents believe that the majority of their clients do not have a formal mobile strategy in place, and just 42% of brand owners think they have a formal mobile marketing strategy for their brand.
Multi-screen (62%) is regarded as the most significant trend impacting mobile strategy in APAC, and investment is planned in mobile display, video, and social marketing.
61% of all respondents intend to utilise mobile display advertising in their marketing activities this year, and 49% intend to leverage mobile video.
Lacking metrics (39%) and skills (33%) are considered to be the main barriers to industry growth. Metrics have become more of a barrier, and skills less, since 2015.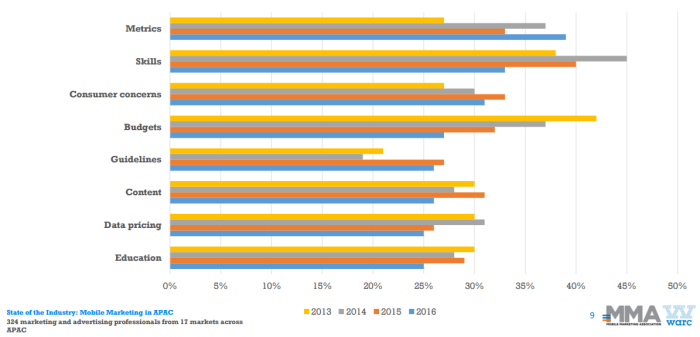 Marketers in the APAC are mostly familiar with programmatic (82%), and see it as having an important role in future marketing strategies.
The survey based on 324 marketing and advertising professionals from 17 markets across Asia Pacific, and the data was collected between 6th October and 20th October 2016.