Mobile marketing is no longer an option today and digital marketers in Asia Pacific understand this fully. It is now an indispensable tool for engaging customers and sustaining interaction with the audience. But how well do marketers actually understand their consumers?
According to the Adobe Digital Index Best of the Best Benchmark 2015, dig­i­tal mar­keters in Asia Pacific con­tinue to excel in mobile mar­ket­ing. With more than 2.5 bil­lion mobile users, mar­keters in Asia Pacific are focused on prioritising mobile in their overall marketing strategy.
Mobile-first business transformation is being led by Asia Pacific, as the region outpaces the United States on smartphone visits. SEA saw double-digit increases year-over-year in their share of smartphone visits, with an 18% increase for best of the best websites and an 11% increase for average websites.
However, where the region's marketers fell behind in their mobile strategy was in conversion rates.
According to the study this indicated a lack of understanding from marketers in consumer mobile and desktop activity and possible friction in the process and experience. Click-through rates were also weak in SEA. This showed a lack of alignment between consumer intent and advertising execution.
"It's clear mobile optimisation is no longer an option, and if businesses are under-skilled in mobile development, it will put them at a severe disadvantage," said Tamara Gaffney, director at Adobe Digital Index.
"APAC is dominating when it comes to smartphone and tablet visits. We're seeing the best websites in APAC coming out ahead of the United States, with more than 50% of their visitors coming from smartphones, and increasingly high success rates in areas like consumption and stickiness. The data is telling us that delivering seamless experiences across devices is the key to acquisition and engagement."
The index compares the over­all aver­age ver­sus the top 20% web­sites on six key per­for­mance indi­ca­tors across eight regions: Aus­tralia and New Zealand (ANZ), South­east Asia (SEA), India, South Korea, Hong Kong, China, Japan and the United States.
Key per­for­mance indi­ca­tors are smart­phone and tablet traf­fic, stick rate, visits-per-visitor, time spent, con­ver­sion rate and click-through rate. Here is an example of how to use the graphs below: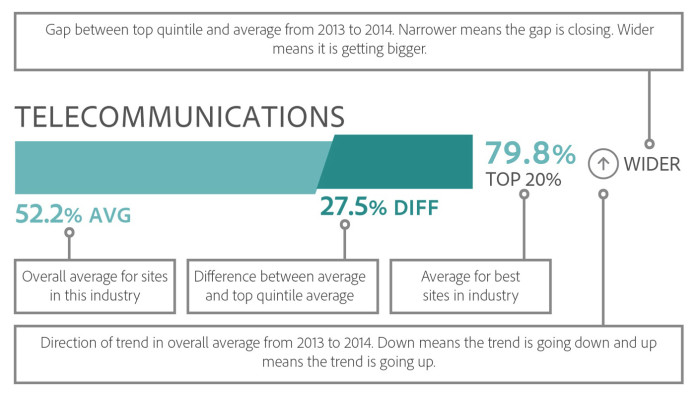 Are you ready to see how your company is performing in the market? Here's a look at some insights to gauge how well your market is doing:
Share of smart­phone visits
As con­sumers con­tinue to reply more and more on their phones to be con­nected, mobile optimisa­tion has become a necessity for brands.
The best com­pa­nies in South Korea lead for smart­phone usage.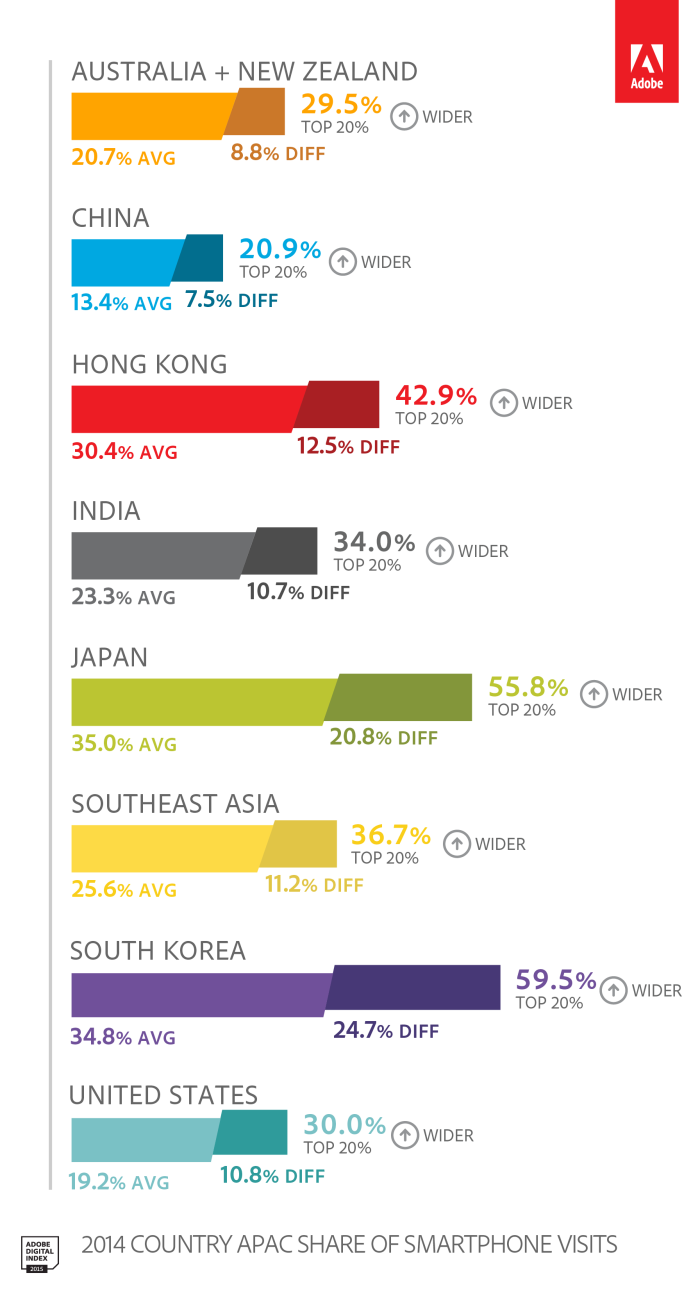 Share of tablet visits
Southeast Asia sees the high­est share of traf­fic from tablets. Marketers should make device optimisation a key since tablet vis­i­tors tend to con­sume more video con­tent.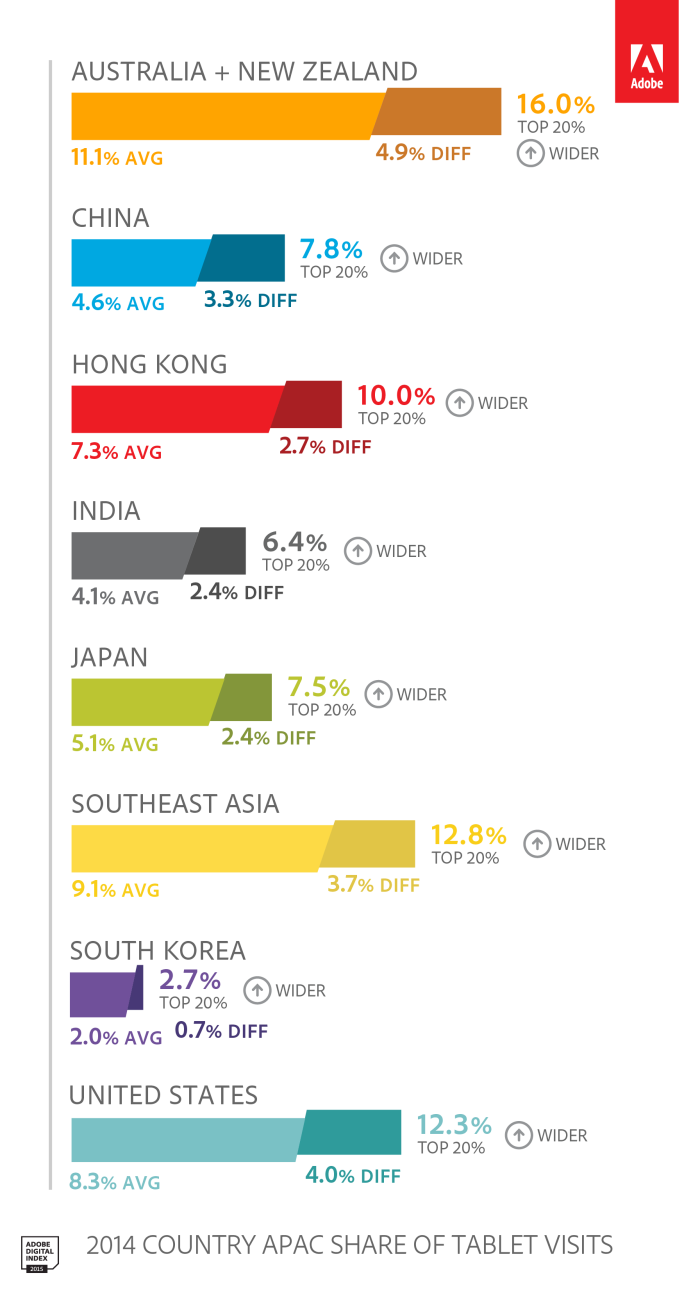 Stick­i­ness
Stick­i­ness – the abil­ity to attract and sat­isfy the con­sumer so their vis­its last more than one page – is a critical metric for mobile marketing success. How can mar­keters improve stick­i­ness? Opti­mise paths based on device and con­text and align reach-based adver­tis­ing with spe­cific audiences.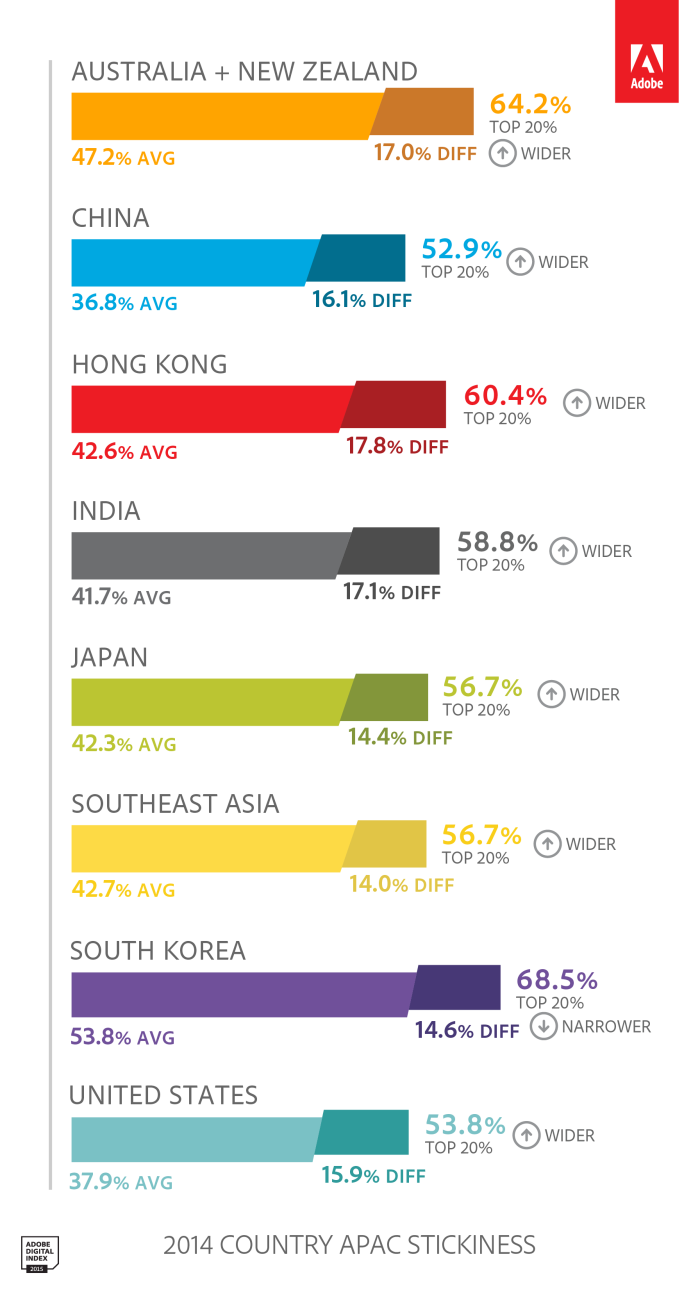 Visit rate (vis­its per vis­i­tor per month)
More vis­its per vis­i­tor equates to loy­alty and reduced acqui­si­tion costs – a big win for marketers. Loyal vis­i­tors are key to mar­kets as they con­vert at a higher rate and con­tribute more to brand health.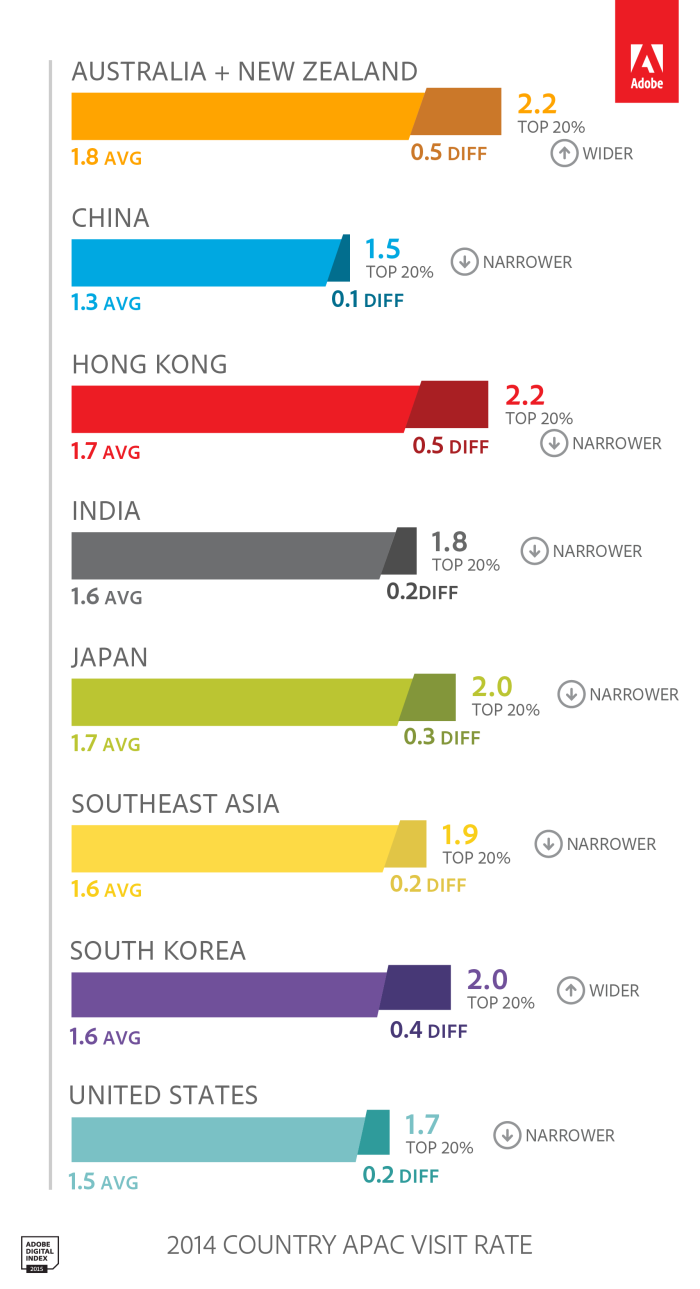 Con­ver­sion
Hong Kong, SEA and China show the weak­est con­ver­sa­tion rates. Mar­keters need to under­stand that con­ver­sion requires under­stand­ing what activ­i­ties con­sumers use mobile and desk­top for and elim­i­nat­ing any fric­tion in the process.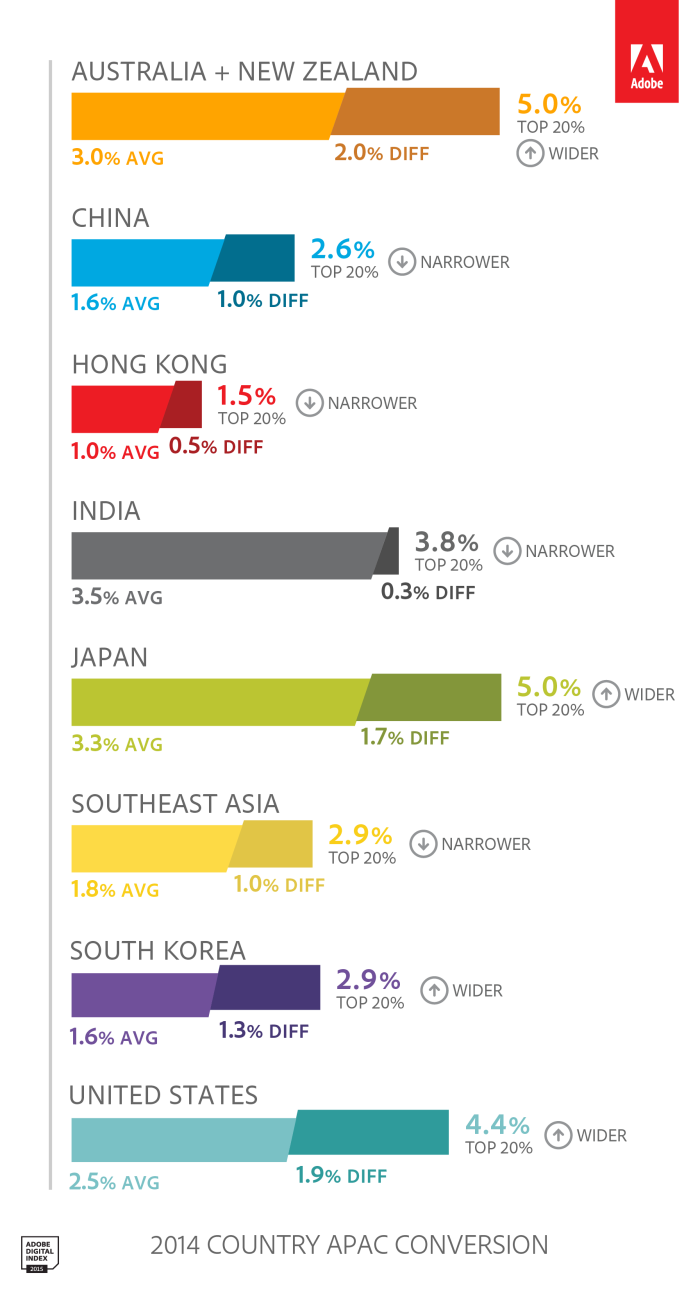 Con­sump­tion
India and SEA see the most time spent on sites. Longer vis­its can lead to engage­ment and loyal vis­i­tors, which may also increase upsell and adver­tis­ing oppor­tu­ni­ties. How­ever, it may be related to con­fu­sion and dif­fi­cult nav­i­ga­tion and this should be tracked with pathing.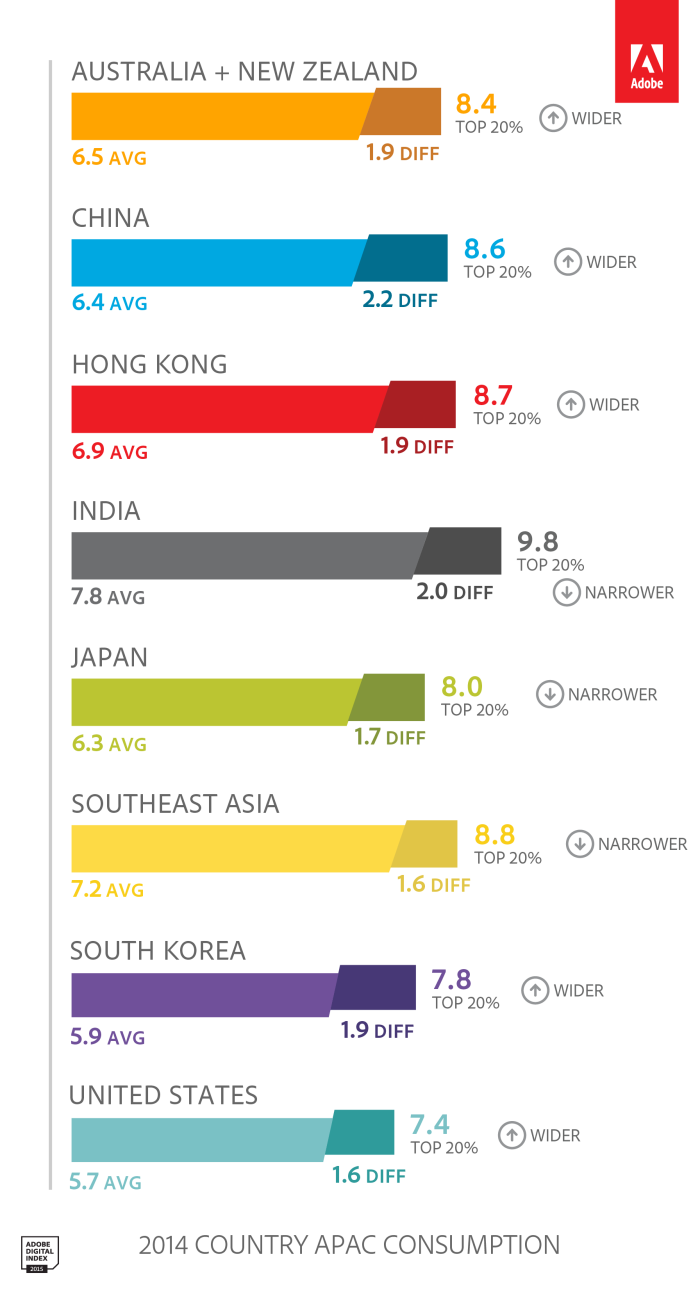 Click-through-rate (CTR)
CTR indi­cates the align­ment between con­sumer intent and adver­tis­ing exe­cu­tion. Acqui­si­tion via search is weak­est in Japan and SEA. An improved CTR increases return on adver­tis­ing spend and stretches bud­gets fur­ther for addi­tional acqui­si­tion activities.