Nestle's MILO and local singing talent Nathan Hartono have crossed internet paths again.
The interaction started when Hartono posted a selfie on his Facebook page of him climbing the Great Wall of China, asking for his followers to "send help" along with "MILO Peng" (which translates to MILO with ice).
Not one to shy away from its love for the local heart throb, MILO swiftly replied two hours later asking for Hartono's address in China to send him bottles of the drink "specially made" for him. Some time later, Hartono received the bottles of MILO and posted it on his Instagram.
[gallery link="file" ids="173829,173843"]
In addition, Hartono followed up with a Facebook video challenging the beverage brand to turn the bottles of MILO he received into an actual product. If MILO Singapore complied, he promised to be the brand's mascot, and joked having part of his name changed to MILO or bathing in the drink.
He even went as far as creating a mini version of himself on one of the MILO bottles. Watch the video here.
In response, MILO revealed that the bottles sent would be something "launched shortly" and told the singer to "get ready to suit up as a mascot". Netizens too, quickly got on the action, with pictures on Nestle MILO's post of a bottled MILO drink called "Peng".
[gallery link="file" ids="173830,173828,173832,173831"]
However, some netizens were sceptical of the interaction, some speculating it to be a coordinated effort. Marketing has reached out to MILO Singapore for comment.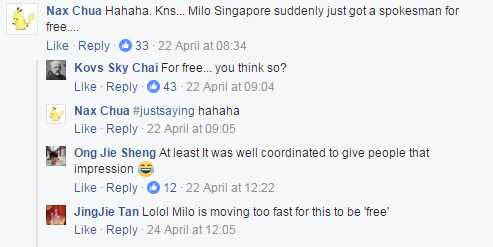 Hartono, we're watching you too.
This is not the first time MILO has come out and shown its support for home-grown singer Nathan Hartono, a front runner and favourite to take home the champion spot for popular Chinese singing contest Sing! China.
Following an interview done by The Straits Times where Hartono declared he would rent a fleet of MILO vans if he won, MILO responded colloquially that he need not rent their popular MILO truck and it would provide it for free.
The beverage brand most recently unveiled an integrated campaign to promote its limited edition MILO van collectables. The campaign, created by The Secret Little Agency, depicted Singapore's well known love affair with the MILO van and has fun with the insight that Singaporeans love a good queue. The spot that was launched in this campaign even garnered the attention of SGAG, which produced a spoof of the video.