Let's just say Microsoft CEO Satya Nadella is a little bit of a superstar in the tech world. When he talks, people listen.
That's also probably why Nadella found himself in hot water when he commented that women who didn't ask for a raise in the work place have "good karma".
According to the publication Read Write, Nadella said at a Grace Hopper Conference #GHC14 celebrating women in tech: "It's not really about asking for a raise, but knowing and having faith that the system will give you the right raise."
This raised several eyebrows in the crowd and got the audiences fingers running wild on social media.
Here are some tweets Nadella's comment drew:
Following the social media outrage Nadella tweeted the following and also sent out an email to his staff.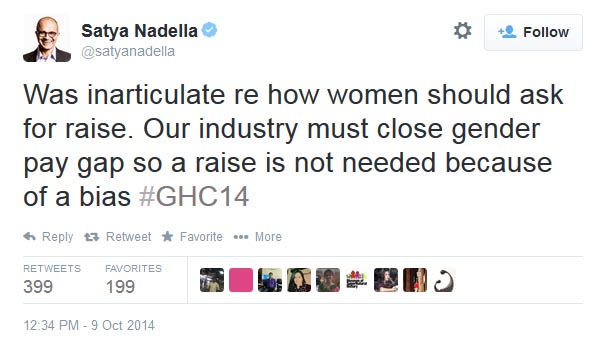 Nadella said in his internal email:
"Toward the end of the interview, Maria asked me what advice I would offer women who are not comfortable asking for pay raises. I answered that question completely wrong. Without a doubt I wholeheartedly support programs at Microsoft and in the industry that bring more women into technology and close the pay gap. I believe men and women should get equal pay for equal work. And when it comes to career advice on getting a raise when you think it's deserved, Maria's advice was the right advice. If you think you deserve a raise, you should just ask."

While by now we have seen several fatal career moves by high ranking executives on social media platforms, live events are a whole new ball game in spokesperson training. We asked several PR leads to see how CEOs need to be prepped before taking the stage.
Read also:
PayPal executive's social media fiasco
Should NTUC take the blame?
Chow Tai Fook PR deputy head resigns after mocking sexual assault victims
Wesley Gunter, PR director of Right Hook Communications told Marketing that if a company's CEO is going to give a speech on a particular topic, the company's corporate communications needs to sit through the various talking points to ensure they are succinct and relevant. For live events, every company should have a standby list of do's and don'ts in the form of a FAQ .
"A script will always need to be present for any speech. It doesn't necessarily have to be word for word but with key speaking points. Knowing who your audience is also important in making sure the right points are addressed and nothing negative that may potentially offend anyone is brought up," said Gunter.
But in situations where slip ups do occur, and they do – Gunter advises never to brush off anything said by making excuses or feigning ignorance. An apology stating that it was misunderstood and a better choice of words could have been used to get the point across can cease the fire momentarily.
Meanwhile, Lars Voedisch, principal consultant and managing director of PRecious Communications said:
I have seen it over and again that company leaders that think they can just 'wing it' are setting themselves up to say things they might later regret.
"As a business leaders you are the voice and face of your brand and should regard public appearances very serious and hence prepare for it [..]It's a matter of experiences and training."
In such a situation, it is important to mitigate the impact quickly, realise what happened quickly and clarify or apologise quickly. Moreover the apology should be heard and shared just as fast.
"The one thing that works miracles is to sincerely say you're sorry. It is not necessarily about clarifications all the time but sometimes simply about admitting you got it wrong," he added.