Microsoft has apologised for what was deemed a sexist promotion for the Xbox One. An online letter template was created to promote the Xbox One to aid men to ask their significant others for the game consoles.
Microsoft has since taken the promo down.
A Microsoft spokesperson told Computer and Video Games magazine: "The letter is customisable and we meant no offence, but understands how the defaults could be perceived. We're making changes to the letter defaults and apologise for the oversight."
The letter comes up with "explanations" to get the lady of the house to get on board with the Xbox. The letter, which can be personalised and shared via social media or email, lists various reasons why the console would benefit "you and me — together and apart, but mostly together."
On Twitter, many have accused Microsoft of reinforcing gender stereotypes as the letter begins with: "You'd rather knit than watch me slay zombies […]"
The letter also adds that with the console the couple will exercise more and the woman can watch movies and chat with her sister while the man plays his games. Although the ad does a solid job of detailing its versatility, some Twitter users have said that the language is condescending and implies that only men play video games and women are bound to dislike it when they do.
Here's what the letter looks like: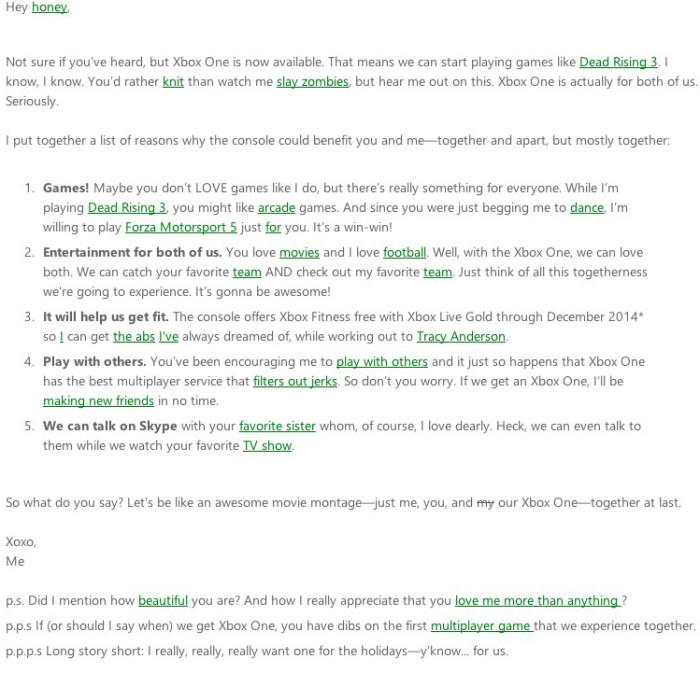 ( Photo courtesy: TechCrunch )