Late last year South Korean advertising network Cheil Worldwide signed a deal to acquire a significant piece of iris Worldwide. Iris, a London-based agency network, works with clients from Shell to adidas, Samsung, Reckitt Benckiser, Barclaycard, Domino's and Diageo.
Marketing sat down with Ian Millner, joint global CEO of iris, to find out what his management style is going to be like going forward.
Describe your management style?
I don't think I've got a particular style. I think I'm just "myself".
Can you describe your career path?
Iris is a breakaway from an agency called IMP (which later become Arc). I joined as a graduate and then became new business director. Seven of us set up on our own in 1999 because we were bored of big agency politics, and wanted to do better for our clients.
I was 29 and Sony was our founding client.
What was your first job?
Before working in advertising I did loads of things. I sold bathrooms, worked on a building site and behind bars (not prison bars). Some lessons there that have definitely helped me in advertising!
Who was the mentor who most influenced you and why?
I would say I had two mentors – Mike Spicer and Pete Hollins. Both helped me find my confidence in the industry and helped me understand what it was all about and what was important.
What is the proudest moment of your career?
There have been loads over the 16 years iris has been going. And I'm hugely proud of what we've built. But if I was to pick one moment, it would be when we were selected out of hundreds of agencies to develop the London 2012 Olympic Mascots.
When you're not working, what would you be doing, aside from spending time with the family?

Iris is such a central part of my life it is hard to split it out. But I love sports – and that is something we as a leadership team have ingrained in iris. We came third in Britain's healthiest company last year – the only agency in the ranking. Our benefits package includes an on-site personal trainer – that should give you a pretty good idea.
Best decision you made when building iris?
Working with Shaun McIlrath in London. And sharing the ownership of the company with so many brilliant partners.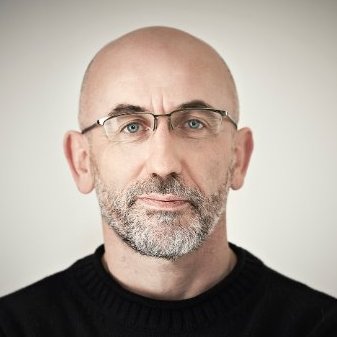 When you were a newbie in the industry, did you dream you would be CEO one day? What kind of CEO did you want to be and how closely have you stuck to it?
I never really dreamt of it! I just got stuck in and did it. You have to be yourself and have a "passionate purpose". Otherwise you'll make it, but probably be miserable over the journey.
One thing you would say to a newbie in the industry?
Enjoy it. Work hard. Push for extraordinary.
What's the toughest thing about your job?
Handling the disappointment that comes with some of the decisions that come out of pitches we've put blood, sweat and tears into. Or out of the decisions that clients can sometimes make in changing an idea or not wanting to take a braver step forward.
What is the harshest aspect of the advertising industry?
The industry is very competitive. You have to get used to feedback and if you can't handle it, understand it, and use it constructively – then you are working in the wrong industry.
One thing you hate most about advertising?
The egos.