After her agency's huge wins at the recent Kancil Awards, BBDO stalwart and managing director at BBDO and Proximity Malaysia, Michelle Achuthan, talks about her rise to the top and how she has been described as a "control freak" and a "dictator with a heart".
Describe your management style?
I'd like to think that I'm fluid and adaptive on any given day, in any given situation and depending on whom I'm dealing with – at any point in time.
My guys, on the other hand, may say I'm a dictator, with a heart.
Career path?
I've been a "mad (wo)man" for 25 years and started as a writer with a local agency (and might have remained a writer had I understood what advertising was!).
A year in, I got into an argument with my ECD who yelled, "you're such a control freak, you should be in client servicing!"
I became a suit soon after and haven't looked back. I've spent the longest and best parts of my career in agencies such as JWT, Saatchi & Saatchi and now BBDO.
Your first job?
My first job ever was as a promotional salesgirl for Hallmark during the Chinese New Year period. The booth was set up in front of giant speakers that blared Chinese New Year music from 10am to 10pm – suffice to say I have a slight aversion to that music now.
Who is the mentor who has most influenced you and why?
I've had the privilege of working with many strong women of advertising, however, two stand out for making me who I am today.
The first is Ann Kwan, my boss at JWT. Besides frequently using clichés and gems such as "many ways to skin a cat" to "son of a sea-faring cockroach", she taught me what it means to be part of a team, to care for the next person, to do what you do well and do it right, but more importantly, believing in me and never giving up even though I probably gave her many reasons to do so. Most of us who belonged to Ann's team then are still friends today. All of us are doing well which is a great testament as to how she "raised" us.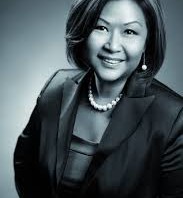 The other is Jennifer Chan, whom I had the privilege of working closely with from the time I joined BBDO until she retired. Jennifer (pictured) taught me etiquette and manners as a constant reminder of my position in BBDO and how my actions and behaviour represented my agency and, of course, her. Basically she forced me to grow-up, step-up and accept myself for the person I'd become in the course of my career.
Proudest moment in your career?
I have three: My children, Ethan (15), Connor (7) and Regan (2).
Your biggest blunder in your career?
Agreeing to a "letter shopping" job without actually knowing what that meant. Even when boxes after boxes started arriving at the agency, it didn't hit me that letter shopping meant manually taking many different things, stuffing it into an envelope, addressing it and mailing it out.
I had an extremely pissed off boss for two weeks which is how long it took me to clear everything and release the conference room from being held box-hostage.
What do you enjoy doing outside of work, aside from spending time with the family?
Studying – I'm continuously in pursuit of knowledge and a couple of years ago became a certified professional coach. Currently I'm pursuing a Bachelor of Arts (honours) in psychology. So yeah … here go more sleepless nights, sigh. (pic of preferred studying hairstyle provided)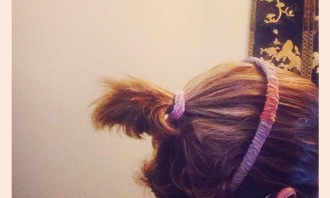 Harshest thing said to you in your career?
"You will never amount to anything in advertising," said my account manager on my last day at work with her, back when I was an account executive.
When you were a newbie in the industry, did you dream you would lead an agency one day? What kind of leader did you want to be and how closely have you stuck to it?

No. I stumbled into advertising without knowing what it meant and once I got a little more schooled in terms of my career path, the only thing I wanted to be was a client service director – it sounded cool and important. I'm actually in awe of people who say things like "in five years I want your job" because I don't think I've ever had that type of focus or determination. I do, however, believe in doing the right thing even when the right thing is harder simply because karma's a bitch.
Craziest thing your staff has told you?
"I want work-life balance." I think in today's context, a work-life balance is up to you to define. For example, if you choose to entertain late night phone calls and send emails at 2am, then that's on you.
One thing you would say to a newbie in the industry?

Hang on, it's going to be a helluva ride!
What's the toughest thing about your job?

To not care so much because it'll consume you if you let it. I learned the hard way how to compartmentalise – which helps me keep sane and still wanting to wake up and go to work the next morning.
One thing you hate most about advertising?

Hypocrites.