Malaysia's largest media platform Media Prima is combining a broad array of multi-platform offerings to help brands target and win over the lucrative Malay audience.
It has activated its annual 360⁰ brand campaign, 'Syukur Selalu', presenting an immediate engagement opportunity for brands throughout Ramadan and Hari Raya.

Combining Malaysia's top two television channels TV3 and TV9 with a stable of integrated platforms – on-air, outdoor, digital, social media, radio and print – Media Prima aims to establish impactful brand partnerships and deliver innovative content that effectively engages up to 80% of the Malay consumers nationwide. Defined as the Mass Premium Malays, this group of audience, aged between 15 to 49 years old, represents both existing and untapped opportunities across market centres, other urban and rural areas.
"For years, brands have always been trying to maximise their investment in the growing Malay segment. It is a market we know well, having owned the most-watched channels for the last 30 years. We understand what makes the Malay consumers tick," said Ahmad Izham Omar, Chief Executive Officer Television Networks, Media Prima Berhad.
"Besides our broadest countrywide reach, brands can tap on Media Prima's understanding of the Malay demographic to develop engaging content, hit the right audience, and gain maximum returns from their marketing spend."
 An evolving audience, but some things never change
Through its proprietary research and data analysis from Nielsen's Audience Measurement, Media Prima has identified six key personas of the Mass Premium Malays – 'Established and Strong-Willed', 'Trend-setter', 'Impressionist', 'Contented', 'Dutiful and Discerning' and 'Faithful'. Spreading across urbanites and rural communities, the Malay audience from each cluster displays unique psychographic that can be used for accurate content targeting.
Despite the evolving attributes, they still hold firm to some traditional traits and values driven by their culture and upbringing. These include religion, family value, togetherness and humility.The insights also show that Malays today have transitioned into a society that seeks enrichment from self-development and spiritual growth to having a better quality of life. They exhibit a varying degree of cross-platform media consumption – not just digital alone, but also other channels, especially TV, radio and newspaper remain dominant.
Izham explains, "Brands must know how to inspire them while keeping in mind their cultural values. To help brands figure this out, we have content that touches their soul, from drama series, religious programmes and entertainment shows."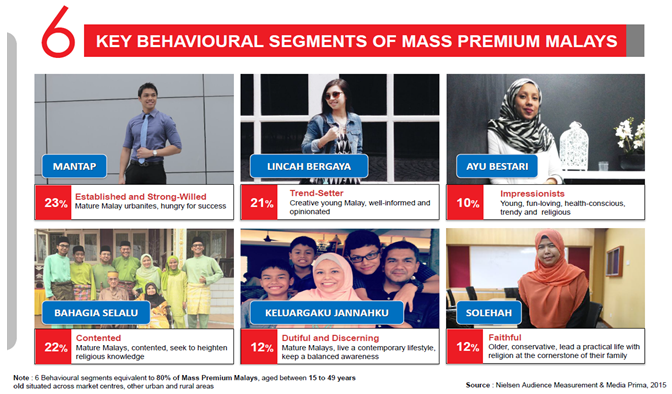 Biggest Ramadan and Raya Campaign Returns
'Syukur Selalu', Media Prima's Ramadan and Hari Raya brand campaign, brings together content through a universe of integrated platforms to amplify the celebration. 'Syukur Selalu' encourages Malaysians to discover the pursuit of real happiness through gratitude.
'Syukur Selalu' features 150 hours of special Ramadan and Raya programming on TV3 and TV9 across four prime time segments. Each slot, ranging from Housewives to Buka Puasa, After Terawikh and Sahur prime time, is filled with dedicated programmes to suit the audience profiles and their evolving priorities throughout Ramadan, allowing brands to be more strategic and accurate with their investment.
The campaign also combines various touchpoints and creative content to fully engage the Malay audience, including:
'Skuad Syukur Selalu' and 'Bazaar Syukur Selalu' on-ground events and roadshows
'Syukur Selalu' mobile app
2015 Ramadan and Raya anthem entitled 'Syukur Selalu', featuring Dayang Nurfaizah and Black Hanifah
Tonton' Features all Ramadan and Raya programmes exclusively on tonton, the no.1 Malaysian video portal. (www.tonton.com.my)
Recounting 2014 success, both TV3 and TV9 led the Malay audience share with an unmatched reach across both Free-to-Air and Pay-TV platforms. Both channels dominated half of Ramadan Raya viewers and retained a reputation as the most-watched TV channels among the Malay audience. Viewership hit an all-time high, reaching over 10 million viewers during the first week of Raya.
"Our Ramadan and Raya campaigns in the past two years hailed tremendous successes and garnered overwhelming response from our audience and partners. Through 'Syukur Selalu', we hope to deliver a meaningful agenda, reminding people to always be thankful and appreciative of their family and friends. We want to do this together with brands on board and allow them to fully tap on our integrated media offerings and creative resources," added Izham.