This is a sponsored post by Meltwater.
What is media monitoring?
Media monitoring refers to the act of listening and monitoring conversations of a particular topic in traditional channels such as print publication, radio, television; as well as social media.
With the advancement of technology, it is important to monitor and keep up with what is being said about your brand, competitors and industry. It gives you the chance to act and respond to any news pertaining to your company.
How marketing communication professionals can benefit from applying media monitoring?
Marketing and communications professionals in particular can benefit from applying media monitoring in their daily operations, by harnessing the power of social media. Social media presents the unique opportunity to be directly plugged in to the consumer's sentiments – both the positives and the negatives.
By following such online conversations, it allows you to stay ahead of the curve and respond to any pertinent issues. This ensures that your company's brand is portrayed in the best light possible as well as be in the loop on the latest trends.
One key reason why media monitoring should be practised, is because it is an effective way to avert a potential crisis.  Monitoring sentiments towards your brand allows you to react and resolve any potential crisis before it even occurs.
Media monitoring also enables companies to determine the success rate of their strategies and campaigns. These tools help companies gauge the response from their consumers: Did the news reach the target media? Are people talking about your brand? Is the brand receiving positive or negative sentiments?
Having access to such a system increases productivity levels within the marketing and communications department. Such a platform offers insight to what needs to be altered for future campaigns in order to achieve maximum impact and effective results. Media monitoring services should be useful extensions: whether it is to help avert a potential crisis or to leverage positive conversations around your brand.
Why online presence is so important today
Online presence is a vital tool of communication in today's society, where a quick Google search can make or break your brand's image. Companies need to maintain and constantly update their website or social media pages. Brands needs to actively engage their consumers online.
They should strive to be thought leaders in their industry. One way of engagement is to mix original and curated content. Original content can be in the form of internal contributed articles or opinion pieces. Curated content refers to existing trend stories or interesting articles that are relevant to your industry, for example: if you are part of the Transport industry, articles on new rules and regulations from the LTA is a form of curated content which you can share online.
Media monitoring software makes it easy for companies to sift through the millions of articles or social media posts, displaying the results in easy to understand dashboards and graphs.
For businesses, today, using a monitoring and analysis tool will provide them with the most relevant news and information needed, thus giving them that tiny edge over their competitors.
Media monitoring the intelligent way
Everyone's got opinions—but which ones matter? For a PR professional today, keeping up with what journalists, bloggers, and customers are saying is complicated. Influencing them is even more complicated. Measuring results can seem impossible.
Find out how modern media intelligence connects media monitoring to engagement and measurement—and enables PR pros to reinvent their roles as brand spokespeople in the age of social media.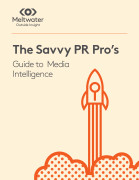 Download Meltwater's guide to:
Real-world examples of companies that are amplifying their messages in unexpected ways.
Expert tips on making the most of your PR efforts—and dollars.
Insights on creating corporate communications that are targeted, engaging, and measurable.