At a time when anger and tension are gripping the city, McDonald's Hong Kong is making an effort to remind people of the brighter side of life using bright colours as a communication vehicle.
Centering on the idea of "See the bright side", DDB Hong Kong has launched a campaign that plays out McDonald's messaging through its new assets of bright new dynamic packaging and bright new golden food choices – giving customers a free swap of two of their most favorite golden items – fries and corn cup.
The creative for the packaging will run in newspapers, MTR billboards and huge billboards on the Eastern and Cross Harbor Tunnels.
In addition, the campaign will feature 35 buses wrapped in McDonald's Fries and McDonald's Corn Cup. The bus sides, asking people to pick either of the two "golden" bus levels, will bring to life McDonald's promotion of swapping from Fries to the Corn Cup, and will also be featured in the 10 second television spot.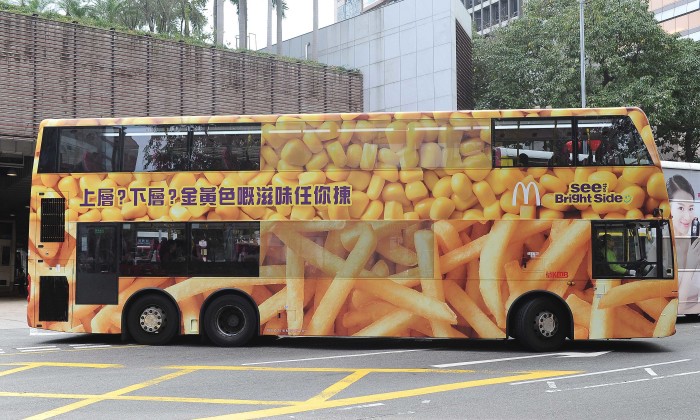 Yvonne Tang, senior director, marketing at McDonald's Hong Kong, said: "DDB Hong Kong came up with the unique idea of brightening people in Hong Kong by injecting more colors to the city. Color can make people feel wonderful and we hope our new campaign, and the changes we've made inside our stores, really does put a smile on people's faces."
O'Poon, group creative director at DDB Group Hong Kong, added: "Sometimes all it takes for people to cheer up is to give them a little dose of color in their daily lives. Using this insight we helped develop a strong brand gesture for McDonald's."
Credit
Client: McDonald's Hong Kong
Creative: DDB Group Hong Kong
VP regional director: Peter Rodenbeck
Head of strategy and innovation: Andreas Krasser
Group creative director: O'Poon
Associate creative director: Roy Ha
Associate creative director: Anderson Wan
Media: OMD Hong Kong
TVC director: Barry Mok – Bingo