Fast-food giant Mcdonald's has admitted to plagiarising a creative work which was copied into an ad campaign for the company.
The original work in question was part of a cheeky creative stunt done by photographer Kristina Bakrevski for her friend, writer David Sikorski.
The "engagement" series captures images of Sikorski staring lovingly at a piece of a wrapped burrito. The pictorial capture went viral online, and was first picked up by news portal Buzzfeed in mid July.
Soon after, the McDonald's copycat ads rolled out in early August to promote its US$2.50 double cheeseburger combo deal: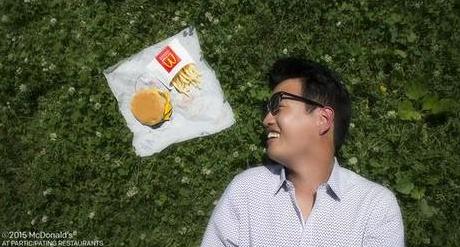 This led to Sikorski taking to his Twitter to expose Mcdonald's missteps:
LOL, that time @McDonalds gives zero fuxs and recreates your ad photos to the tee for themselves @BuzzFeed #burritos pic.twitter.com/49FLo1k5oX

— David Sikorski (@_davidsikorski) August 20, 2015
In a statement to Adweek, Sikorski said,"The photos used by McDonald's are not a spinoff or a take on it, but an exact duplicate from the wardrobe, the positions and the concept. Neither myself, my photographer or the licensing company were approached for permission."
Mcdonald's responded by firstly removing the ad campaign, originally posted on 3 August, from its social media sites. The company also issued a statement to Adweek: "This shouldn't have happened, and, with our agency partner, we're working to find out how it did. We're reaching out to David Sikorski and Kristina Bakrevski. We apologise to them, their fans and ours."
Marketing has reached out to McDonald's for comments.
Image credits: Kristina Bakrevski