China has been at the tip of everyone's lips as 2016 slowly trudges along. According to industry players, 2016 has already seen marketing budgets shrinking and clients are becoming cautious in their ad spend.
Recently WPP, the world's largest ad network, shared its views on the 2016 outlook during its fourth-quarter earnings. The network will be concentrating on four strategic priorities.
It will be concentrating on fast growth markets such as Asia Pacific, Latin America, Africa & Middle East and Central & Eastern Europe to be 40-45% of total group revenue over next five years. It is also looking at new media becoming 40-45% of total group revenue over next five years.
WPP is focusing on data investment management and quantitative disciplines and an application of technology, big data and content. It will be injecting cash and assets into a partnership with AppNexus, comScore and Rentrak. Last but not least, it is looking to a horizontal structure and ensuring its people work together through client teams and country and sub-regional managers for benefit of clients.
Here are 10 trends the network outlined for 2016: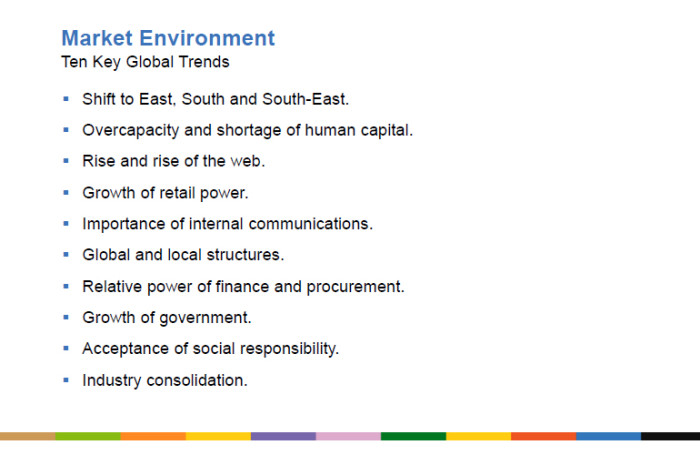 The network also shared some macro and micro trends.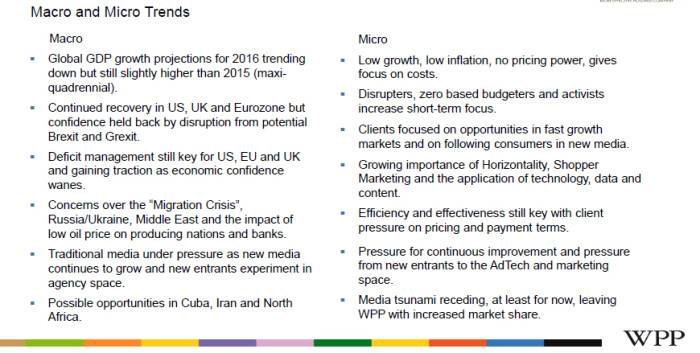 And in case you were wondering how the network fared against the rest of its competitors: