Marketers hoping for a significant boost in salary will be disappointed by new data which indicates a halt on pay raise in 2015, as marketing teams continue to restructure around the areas of digital.
Robert Walters' latest salary survey shows that despite data showing marketing departments will restructure and hire, particularly for sought-after digital talent, salaries will remain flat.
Take a look at the full chart here: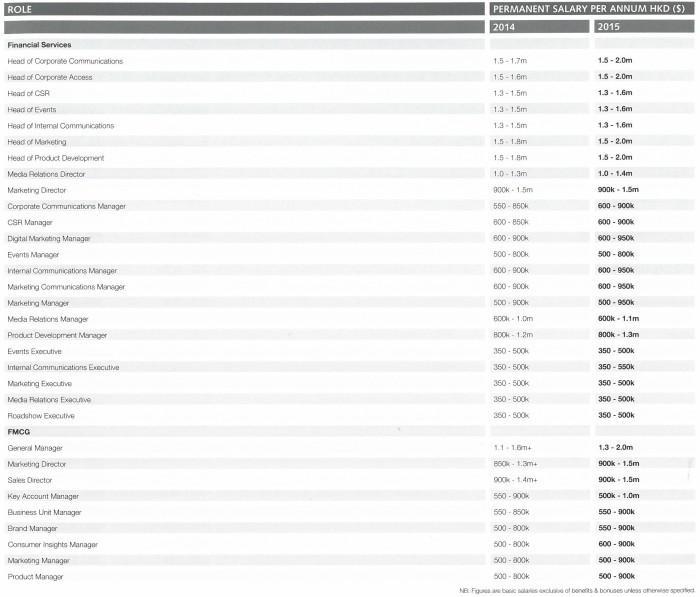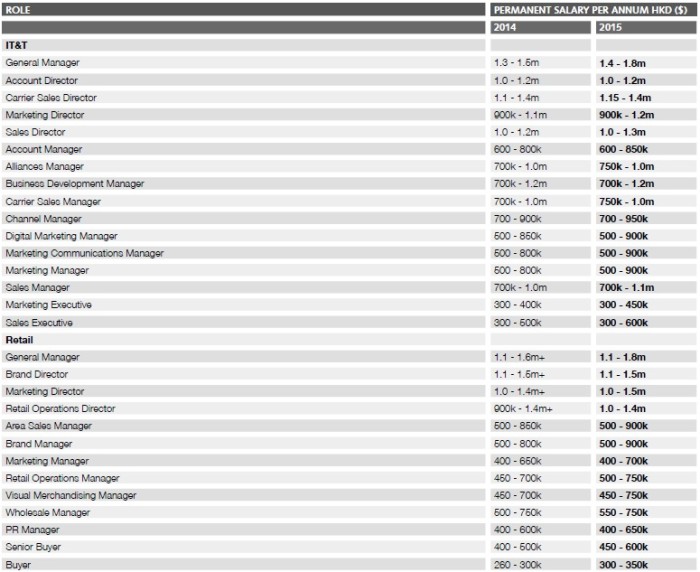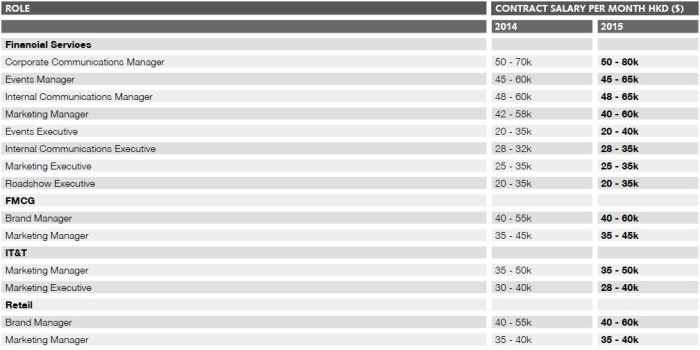 Meanwhile, temporary work placements continued to grow in 2014, particularly for junior to mid-level professionals in corporate communications, PR, events, online marketing and market research.
However, there're no major increase in salary form the past year due to the overall market condition in Hong Kong, and the situation is anticipated to continue this year, with only professional receiving modest raises of 10-15%.
With the allure of higher wages, more agency workers will give up the stressful working conditions and shift to the corporate side looking down the road this year, as Nick Jones, manager of sales and marketing division at Robert Walters predicts.
"People working in agencies will probably be paid less than those from corporate because of the higher volume of people wanting to work there (agencies). Most graduates would find it exciting, so agencies tend to pay a little bit less across the market," Jones told Marketing.
"For entry level roles, they can expect around HK$18,000 per month, which for senior roles can climb to HK$1.5 to HK$2 million annually."
He said two years is a benchmark for those working in ad agencies who are looking to take a step up.
Most companies are looking for candidate that have stayed at a company for a minimum of three years. Anytime less than that would be considered a short stay and would be a concern for new employees.
"We get a lot of people form agencies wanting to move into corporate because the pay levels are higher. Also within agencies, what they do is to work on specific projects; whereas within corporate they can work on marketing strategies that go across the whole year, or longer, so they get to see all the different channels of marketing rather than just advertising, or just digital."
Most people choose to work in agencies in the early stages of their career, Jones said, but due to the lower pay, they often move to the corporate side after a few years.
"Junior level usually has the highest turnover rate where most agencies tend to keep a bigger group of junior execution-focused role, with less senior jobs."
However, moving to the corporate side is no easy task. Corporate are usually looking to hire marketers coming from their competitors or form another corporate. They rarely looking for people coming from agencies, unless in the digital space."